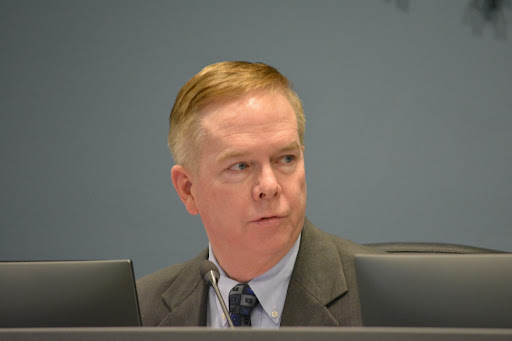 Mayor Mays
Before being elected to city council in 2012, Coppell Mayor West Mays was president of two homeowner associations; his background exposed him to city politics allowing him to succeed in his position.
What is something you had to consider when moving from council member to mayor?
Being mayor is actually very different [from] being on the city council. The mayor doesn't have a vote, so the mayor's job is more of a management job; it's learning to work with the council to make sure that the council makes a decision. In fact, the [former Mayor Karen Hunt] had told me the hardest thing about being  mayor is realizing that your job is no longer to make a decision, but your job is to make sure that a decision is made. 
What prior experience as a professional help you as mayor?
I'm an electrical engineer by training and I've been managing groups of people for close to 25 years. The professional side of learning how to handle human dynamics was a big part of [my background]. The government side is very different than being in a company, being industrial, but being exposed to the city government for nine years on the city council [prepared me for] what I was getting into in terms of the city government. I knew how to manage the people, so the two fit together very well.
Did you have any thoughts of being a council member when you were younger?
My dad was a city councilman in the city that I grew up in [Smithville, Texas], and I didn't really think anything of it; it was just what he did. I can't say that it motivated me one way or the other, but I've always been active in the community. [My wife and I] were active when [our] kids were in school with the school district [and] the band. I'm also a member of the Lions Club and a member of the Coppell A&M club for 20 years now; so it was a natural migration to participate in the city government.
What's your advice for future city council members?
My advice is keep an open mind, ask questions and be prepared to learn. Operating the city government is different [from] the things that most of us have ever done; you have to be willing to learn how the city operates and how government accounting works. Government accounting is different in a lot of ways and it can get very confusing when you first are exposed to it, so be willing to ask questions and learn from your mistakes and from others.
What are your legislative priorities? 
Well, my priorities may be a little bit different than the city in general. We've got a number of items that we're working on.
The city is going to be redoing

Belt Line

over the next year [and] a sewer pump lift station on the east side of town. These are all infrastructure projects that we need to do there. 

In 2023, we'll have the Texas State Legislature meeting and we always have items that we either want to see the legislature pass for the city or don't want to pass. I plan to spend some time working on our legislative agenda, that's the policy statements that we'll be passing along to our state representatives and our state senators.

We had the

state rule 3.334

that's changing how sales tax [is] collected. It's critical that we do everything we can to keep the 3.334 state rule from being implemented. 

One of the things that continues to bother me is the overreach of the state government into the local city, municipal politics and city operation. We need to be very careful that we maintain our independence and that we're allowed to make our decisions for ourselves locally.

We have a brand new beautiful state of the art Performing Arts Center and I want to make sure that I, as mayor, do everything possible to make sure that that facility is successful.
How has COVID-19 issues and protocols impacted the city council?
What was really impactful was the city of Coppell provided services for our citizens and [continued] to provide those services to our citizens all through COVID-19. We were really impacted in the areas that would require people to be present: the library, the CORE, the Senior Center. We had to either cut those back, reduce the hours or suspend their operation. 
Follow Minnie (@mridinigazawada) and @CHSCampusNews on Twitter.