A change in play (style)
Cowboys fall to Flower Mound, marks second district loss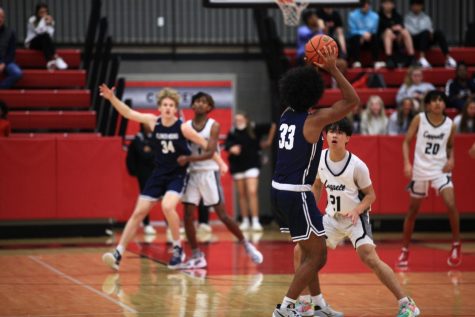 Frequent watchers of the Coppell boys basketball team can easily recognize its fast, high-scoring play style. For these fans, watching the Cowboys compete in a slow, low-scoring game seems out of the ordinary. 
Last night's matchup against Flower Mound at CHS Arena, where the Cowboys fell, 31-26, was one of these slow-paced games, taking nearly four minutes for either team to score.
"That's the kind of team Flower Mound is, they're very methodical," Coppell senior guard Devank Rane said. "They don't care how long they take to get a shot; they'll use up minutes, that's how their strategy works [in order to] win games."
After two shots by the Jaguars (11-8, 2-3 in District 6-6A) and with 55 seconds remaining in the first quarter, Coppell sophomore guard Alex Tung found an opening and rattled off a 3-pointer to end the quarter with Coppell (16-10, 3-2) trailing the Jaguars, 7-3.
The second quarter followed a similar trajectory as the first: with no points on the board until nearly four minutes in. However, 3-pointers from Rane and senior forward Noel Behre were not enough to close the deficit, the buzzer sounded for half with a 14-9 Jaguars lead.
"The thing we talked about [during the half] is that events are going to happen in your life and how you respond to those is how you get to try to control the outcome," Coppell coach Clint Schnell said. "We told them that there's two paths we can take on this: we can either hang our heads and feel down and out about it or we can respond and rise up on it and fix some things and get after it. I think that's what they choose to do."
And so they did, as the Cowboys hit its stride in the third quarter. A 3-pointer by Behre gave Coppell a needed boost to close the deficit. The Cowboys began shooting off 3's and tied the game at 17. Now neck and neck, Coppell senior guard Eric Lampkin took the putback with 3 seconds remaining, allowing the Cowboys to finish the quarter tied at 20.
A rally between the Cowboys and Jaguars ensued with the fourth quarter. Three-pointers by Coppell sophomore forward Arhan Lapsiwala and Rane allowed the Cowboys to stay in the game until its final moments. 
With 30 seconds left and the Jaguars clinging to a 28-26 lead, the crowd began to roar.
"I love when the crowd is fired up," Devank said. "It's a lot more fun, the crowd helps us a lot. I wish it had started earlier."
With 11 seconds remaining, Flower Mound secured the win off two free throws, having reached the double bonus.
"[Being able] to focus and lock in on the defense was what really gave us a chance to win," Rane said. "Our scoring was not up there tonight; but [with Flower Mound's] methodical play, a lot of defenses will get fired, especially the way we play defense."
A gap was left in the Cowboys lineup during last night's game with senior forward Ryan Agarwal and senior guard Naz Brown out for injury. 
"It's tough replacing those two, they're four–year varsity lettermen that are a big part of our team," Coppell coach Clint Schnell said. "Tonight, we started three sophomores and guys that weren't big contributors until these injuries happened.  They realized that they have to step up and fill the void."
The Cowboys travel to Plano on Tuesday, with tipoff at 7 p.m.
"[We need to] work on our shooting," Schnell said. "Our defensive effort was good, especially against a bigger team. We did a better job of transition defense and taking care of the basketball."
Follow Torie (@torielpeck) and @SidekickSports on Twitter.