Patel learns business skills by managing Subway
Practically raised in his mom Nita Patel's Subway sandwich shop, CHS9 student Om Patel always knew he would one day take over. While most high school students would be working behind the counters, Om works behind the scenes, running the store.
"Since I was a little kid, I'd always go to the [Subway]," Om said. "When I grew up a bit, around age 11, I started helping out around the store. And eventually, I worked more and more and got the full experience of how the store works."
He describes his job as a manager as doing everything that needs to be done. Ranging from cleaning the lobby, preparing sandwiches, working the register, assisting other employees, ordering supplies and creating manuals, he learns a lot from his job.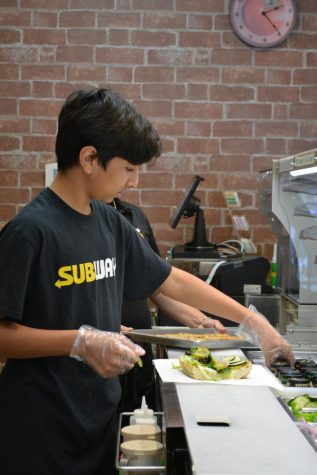 "I have learned how to manage money," Om said. "[For example] supply, I can't order too much of something for us to sell [because] it will expire. I've learned how to talk to employees, how to manage them, and how to find the right employee. I know how to respond to an emergency situation."
He does mention, however, that he is not entirely in charge, or experienced in everything.
"My mom helps with [shift schedules and wages]," Om said. "It's easier for her to do that stuff because I haven't learned that yet. I've been learning from her."
Nita is more than happy to teach him how to run the place. Having owned the establishment for 16 years, she has been putting more and more responsibility on Om's plate to teach him how a business works. 
"When he was 5, I started taking him to work since I didn't have anybody to take care of him," Nita said. "So he was at the store while I was working and then he grew up and slowly started observing. Then according to his age, I slowly started exploring [what he could do] and getting him involved at a very small level. Slowly, his interest grew more and more, and I was showing him more and more."
Currently, she is teaching him about the financial side of running a business. One of the more fun memories she has of teaching Om was when he first started working.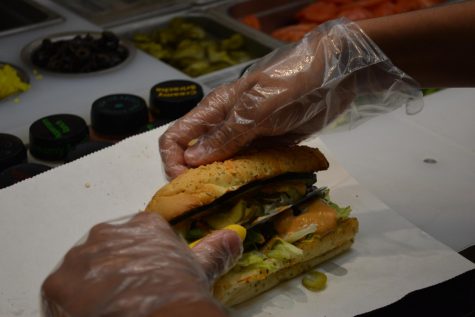 "When he started working at the front, sometimes he would get emotional and a little excited," Nita said. "So he was offering free cookies to all the customers. And I told him, this is a real business. We are here to make a profit, not to give freebies."
While he shoulders plenty of responsibility at work, at school he still acts like any other teenager.
"He's very loud, very rowdy," CHS9 English teacher Christopher Arney said. "But he does know when to take class seriously. He knows when to take his academics seriously, but he's also a very fun personality."
When Om is older, he wants to continue owning a business.
"I want to attack some sort of business larger than the Subway," Om said. "Because of Subway I've learned how to manage a business. It's like little tiny blocks [I need to] build up. I [want to] keep expanding in the business area because I'm already experienced."
Follow Iniya Nathan (@iniya_v) and @CHSCampusNews on Twitter.