Teacher of the Issue: Keeping score with one of Coppell's top historians
Coppell High School  AP United States History, U.S. History teacher Diane de Waal has been selected by The Sidekick as the Teacher of the Issue for Issue 3.
Why did you decide to teach U.S. history?
I grew up in a family that was very interested in history. My dad, [Thomas William Wharton] was an amateur historian. A lot of our relationship was talking about history. He nurtured that passion in me [for] United States history and the importance of knowing our history, appreciating the struggles, successes and the failures. It was a combination of being interested and always being fascinated by the stories. My dad told me a lot of stories. And that's what I try to do with my [students] as well, teach through storytelling, because history is a story. [Then they can] look at the different perspectives of the different people who lived that story. 
"
That's what I try to do with my [students] as well, teach through storytelling, because history is a story. [Then they can] look at the different perspectives of the different people who lived that story. "
— Diane de Waal
He was very interested in the Civil War. A lot of the stories that I heard from him were about his great aunt and his grandmother who lived in Richmond, Va. during the Civil War, the capital of the Confederacy. Knowing that our family lived [through] an event that has happened in our country was really personal for me. The stories about him visiting those relatives in Richmond and hearing their stories about where they were and what was happening there made it really come alive.
Would you consider yourself a mentor? 
I have stepped into a mentoring position [for] a couple of our new teachers, because teaching is challenging. Teaching is hard. And we certainly all can agree over the last two years it's been a completely different scenario. So to come into the profession at this point, and try and figure out after kids have been all over the place for 18 months, you're also trying to figure out your teaching style.
Stepping into it, I do see myself as some kind of caretaker. The spirit of the department is to lift others up when we feel like we've hit barriers. That's something also that I like to do for our department.
What do your students not know about you?  
My students know that I was not exactly a cheerleader. I was a supporter for the Dallas Chaparrals, which was the professional basketball team before the [Dallas] Mavericks. I was their score girl, and kept score very publicly.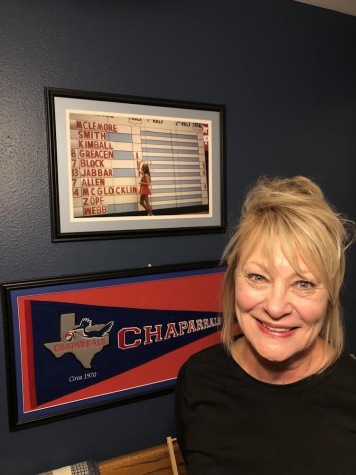 What is your favorite aspect of teaching history? 
My favorite thing about American history is what I try to communicate to the kids about a shared history. And about the danger of looking at history through a single narrative. So many diverse people participated in the development of our country in the past. In U.S. history and AP both, it's a survey course, we go along the surface and try and drill down where we can. That's my favorite thing about teaching history, [being able] to open kid's eyes to the fact that we have a shared history, and we need to listen to many different voices tell that story. I love that. 
If you could travel to any time and place in history, where would you go?
I would pick a time when my parents, especially my father, [went] to visit his relatives in Richmond and hear their stories. He was born in 1918. He was also a child of the Great Depression, but they made ends meet and if I were to go back in time, I would go back to grow up with my dad. 
What made you realize teaching was the right career choice? 
I got into teaching as an intermediate piece of my career between college and wanting to work in history at a museum or be a museum curator. [In] teaching, you get to talk about history every day to a captive audience who has to listen to me. After about three to five years, I realized what I really am is a teacher. I ended up falling in love with teaching and I've done it for 30  years.
What is one life lesson you want your students to take away from you? 
There is nothing that is not eroded over there. History is multifaceted and multi-storied, and can't be reduced to a single story or answer. There's not a single answer to the complexity of history. 
There are universal truths that drive ethical human behavior. And we have the responsibility as human beings to act in an ethical way. And part of what we learn from history is examples of how that was done. [And] examples of how that wasn't done, and use those examples to make a better today and tomorrow.
Follow Anette Varghese (@AnetteVarghese) and @CHSCampusNews on Twitter.