Offense sputters as Coppell takes second district loss
Cowboys unable to recover from large deficit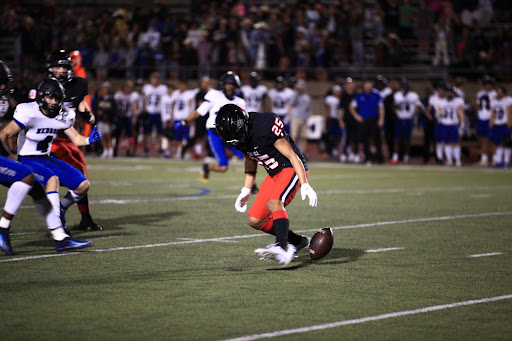 If there was a single play that summarized Coppell's offense last night, it would be senior wide receiver Dylan Nelson's 81-yard kickoff return to open the second half. The kickoff return that he would eventually fumble wouldn't have counted in the first place due to an illegal block.
It was just another scenario of many where Coppell shot itself in the foot. 
"The penalty, the fumble; that summarized the whole game for us," Coppell coach Michael DeWitt said.
Hebron scored 27 straight before Coppell got on the board as the Cowboys fell, 34-12, at Buddy Echols Field last night. 
On its first nine possessions, Coppell (3-4, 2-2 in District 6-6A) was forced to punt five times, was intercepted twice, had a field goal blocked and fumbled a kickoff return. 
"We just had some penalties and we had some busts early; we dug ourselves a hole and then we're playing catch up," DeWitt said. "Now we had to throw the ball to try and score points and they're blitzing and getting pressure [on us]. It's just not a good situation." 
Hebron (4-3, 4-0) started off early with an eight-yard touchdown run from junior running back Fred Ware. Junior quarterback Braxton Baker added another touchdown on a one-yard run at the end of the first quarter. Hebron senior quarterback Jacob Buniff connected with senior wide receiver Takoda Bridges on a nine yard touchdown pass to end the first half. 
With 1:46 left in the third quarter, Baker connected with Bridges on a 33-yard touchdown pass to give the Hawks a 27-0 lead over Coppell. 
"We just have to get better at every phase of the game," Coppell senior linebacker Cooper Seidman said. "We can't afford to shoot ourselves in the foot with penalties on both sides of the ball. We have to protect the football and get turnovers. When we don't protect the football and we don't get turnovers, we lose football games and stats show it so we just have to get better."
The Cowboys were able to avoid the shutout as junior quarterback Jack Fishpaw connected with Nelson on a 30–yard touchdown pass and senior wide receiver Andrew Nelson on a 18-yard touchdown pass in the fourth quarter. 
The Hawks added in its last score of the night as Baker threw a 20-yard touchdown pass to senior wide receiver Cobye Baldwin.
"We're at a point now where we are stuck and we need to overcome that hurdle," Coppell senior offensive lineman Sammy Hernandez said. "There was a lot of miscommunication within the line and a lack of focus hurt us."
With three games remaining, Coppell is tied in fourth place with Flower Mound. The Cowboys, however, still control their own destiny and will need to win two -potentially all three- games to have a chance to make the playoffs. 
The Cowboys travel to Max Goldsmith Stadium to take on a state-power Lewisville next Friday with kickoff at 7 p.m.
"[Resetting after this game] is the only option," DeWitt said. "You have to go to work for Lewisville next week. I'm not even worried about [playoffs], we want to win the next game and the focus is on beating Lewisville, that's it." 
Follow Meer (@mahfuz_meer) and @SidekickSports on Twitter.