Coppell takes on undefeated Hebron, to rebound from first district loss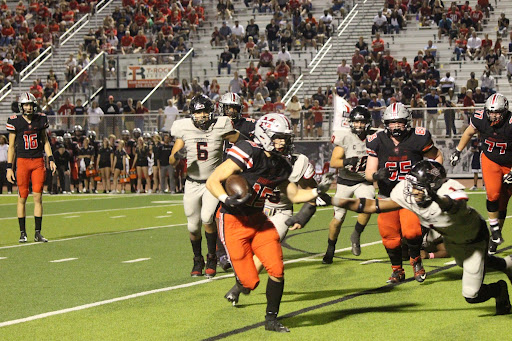 Losses like last week's 39-37 double overtime loss to area-ranked Marcus do not happen often for Coppell. A rare thriller that provided plenty of positive and negative emotions was a culmination of everything the young, blue-collar Cowboys have been focusing on so far this season. 
However, going into Friday's District 6-6A clash against Hebron at Buddy Echols Field, with kickoff at 7 p.m., the Cowboys will have to put all of last week to the side to focus on the undefeated Hawks.
"We are going to forget about what just happened and our focus is on this week; this week is no different from last week [where we came] off of a win," Coppell coach Michael DeWitt said. "We can't worry about what's already happened, we just have to move forward and focus on the task at hand which is getting ready for Hebron."
The area-ranked passing offense of Hebron (3-3, 3-0 in District 6-6A) that's averaging 244 yards passing per game has allowed the Hawks to earn an undefeated record through three games of district play. 
Hebron senior quarterback Jacob Buniff has thrown for 1,104 yards, 10 touchdowns and three interceptions. Buniff's main targets have been two three-star prospects in senior wide receiver Takoda Bridges, who has 705 yards receiving and seven touchdowns on 43 receptions, and senior wide receiver Cobye Baldwin, who has 421 yards receiving and six touchdowns on 26 receptions. 
Buniff, however, did not play in last week's 24-21 win over Plano and was replaced by junior quarterback Braxton Baker, who threw for 134 yards, two touchdowns and one interception.
"We just need to be able to line up right, execute and be sound in the backend because they are a good football team," DeWitt said
Offensive execution on every play is still a working issue for Coppell (3-3, 2-1), and multiple turnovers and a staggering offense has often plagued the Cowboys throughout its season thus far. However, the Cowboys offense showed plenty of resolve and resilience against Marcus which will be encouraging as Coppell enters the second half of district play.
"We see a lot of maturity in our offense when we are taking those big shots and going for it, things that we haven't confidently done before," Coppell senior quarterback Landry Fee said. "We have to win the turnover battle and keep ball security especially on fumbles. We have to stay on drives and take what they give us, not try to do too much."
Coppell has started games off very sound defensively but as games wore on, the Cowboys' defense has been gashed due to tiredness, a potentially concerning fact as it continues to play highly potent, offensive teams. 
"We need to be more conditioned and rotate more guys so we stay more fresh so when it comes to running the games, we won't get tired every single time," Coppell senior linebacker Jake Roemer said. 
Friday's game also marks the Cowboys' return to Buddy Echols Field and will be their second to last home game of the season. 
"It's just cool to look out and see the school supporting us but, what really matters is the game on the field, in between the lines," Fee said. "It's nice to come out and see everyone there supporting us, it just makes it more fun at football games when there's a better atmosphere."
Follow Meer (@mahfuz_meer) and @SidekickSports on Twitter.