Super ends Takeoff with a magical last show
As people filed into the auditorium at 3 p.m. on Sunday, the dimly lit room began to gain personality as Journey's "Don't Stop Believin'' blasted through the loudspeakers. Then, the house lights went down and the audience was treated to a highlight reel featuring the newly built amenities of the Coppell Arts & Music Center. 
The winner of NBC's "PHENOMENON" and a top finalist from "America's Got Talent", Mike Super appeared on center stage from a four sided, seemingly empty, box. Within the first 30 seconds of his show, he had his audience applauding and shaking their heads in confusion. 
Super invited audience members onto the stage almost immediately. He pulled Samantha Harris, a visitor from Atlanta, from the crowd of raised hands onto the stage to levitate on a plastic board raised by two chairs. 
"I feel great, I'm shocked, I'm surprised because I didn't know that I was actually floating, I thought, maybe, before you go, that [the magician] tells you to do something, but [Super] never talked to me or anything," Harris said. "I think other people should experience it and, you know, really see what it's like because it was amazing to me."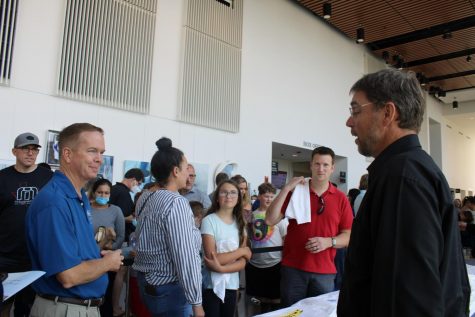 Super also unknowingly brought Coppell city councilman Kevin Nevels onto stage for the trick that gained the most praise from the audience. Super pulled a voodoo doll out from his "voodoo magic kit" and made Nevels feel phantom tapping on his shoulder, his hands being lit on fire and a stab to the stomach making him jump out of his wooden chair placed on center stage. 
"I felt everything and I'm pretty sure something touched my shoulders," Nevels said. 
Harris and Nevels weren't the only ones impressed by the show's quality that afternoon. 
"This is like a first class facility like I have never seen clearly cutting edge," Super said. "So it only makes my little show look fantastic. So I am ecstatic because it's great. They gave me much more than I expected because sometimes audiences now like post-COVID can be a little quiet at first, right? Because it's been a year and a half since anyone's been to a show. 
"But here they came out. Bells, whistles. They had great energy, so they actually surprised me at their energy level."
Takeoff opened the doors of Coppell Arts Center to the community with a diverse offering of entertainment throughout the arts and music festival that will highlight what the center has to offer.
"[The Coppell Arts Center] is great. I love it. I like the scenery. I like everything. It was funny. It was amusing. Everything was great," Harris said. 
Follow Anette (@AnetteVarghese) and @CHSCampusNews on Twitter.