Tennis cruises to victory against East Texas foe
Yesterday, Coppell tennis defeated Tyler Legacy  in a 17-2. The matchup was not a district match, so it did not improve its ranking, but it did serve as the perfect grounds for experimenting with their lineup. 
"[The match] went outstanding. I'm not sure it could've gone much better," Coppell tennis coach Rich Foster said. "On paper we're a little stronger than they are. Their top girl [sophomore Audrey Deatherage] is pretty even with our top girl [sophomore Lindsay Patton], we're a bit deeper than they are." 
According to Coppell junior Lakshana Parasuraman, the team's doubles lineup has been improving each match. 
"I think I did really well, especially in doubles. We [Parasuraman and senior Nandini Thallapareddy] set a higher standard for ourselves when we play future matches," Parasuraman said. "Each player can complement each other, it's essential for our future matches, so it's good to have a good volleyer on the net and also a good baseliner in the back, where you can cover the whole court." 
Coppell were forced to switch out one of its usual boys singles players, junior Atharva Nijasure, who was feeling unwell for Coppell junior Shay Patel. After being added to the lineup, Patel went on to win straight sets 6-2, 6-3, bringing Coppell another victory.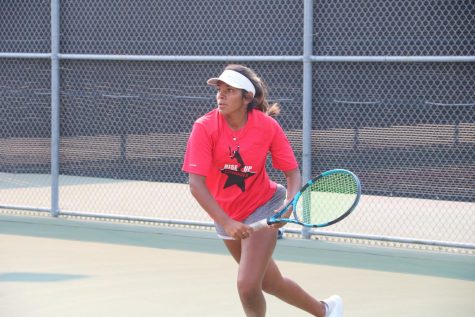 "Feels good," Patel said. "I expected to win all in all. My opponent had a pretty big serve and it caught me off guard, so I started stepping into the ball." 
Coppell took this matchup as an opportunity to try out new doubles pairings. Expecting limited chemistry from new partners, Foster expected the doubles scores would be closer, but coupled with the sweep on the boys side, the win in girls doubles resulted in a dramatic win for Coppell.
"I expected us to win doubles but not soundly," Foster said. "We were trying some new doubles combinations [yesterday]. I would've been happy with a 4-3, but to see 6-1 was a very pleasant surprise. [Legacy coach Charlie Sizemore] is a good coach and his kids can play good doubles, so I feel really good about how we played doubles today." 
Follow Anette(@AnetteVarghese) and @SidekickSports on Twitter.