Teacher of the Week: Deinhammer returning to her teaching roots after five years at CMSE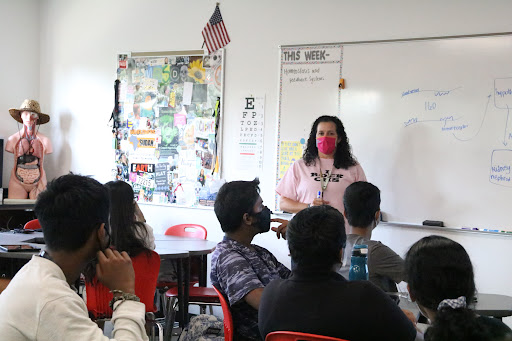 Coppell High School anatomy and physiology teacher Jodie Deinhammer came back to CHS after teaching seventh grade science and gardening at Coppell Middle School East. After unexpectedly becoming a teacher in 1997 and teaching at CHS for 24 years, she returned to E206, the same classroom where she started teaching. 
What is your most memorable teaching moment? 
It was really fun when Apple came in and filmed my class. That was very stressful but it was really fun because I got to pick 20 kids to work with. They stayed in my room for two solid days while the film team came in and they filmed us teaching a lesson.
Why did you become a science teacher? 
I wasn't planning on becoming a teacher. I was going to go to medical school; I graduated [from the University of North Texas] and got into medical school, but decided I needed a break because I was tired of school. I talked to my counselor at UNT and she told me that "[my] degree is in microbiology and biochemistry so [I am] either going to medical school or be a teacher." When I started, I just loved it. It's really fun to be around people and try to inspire them to do better. I did my observation at Marcus High School, and I watched a teacher coach teach anatomy. At the time I was there was when they were dissecting the cats, so I literally sat in there and watched them dissect cats for 30 hours. My student teaching was actually [at CHS], and I got hired right after student teaching, so it was an interesting way to get into Coppell. 
You and Sarah Grover started the East Sustainability Club at CMSE. Is there a connection between this and you becoming the sponsor for the Eco Club at CHS?
Yes, the students that are running the Eco club are the ones that started ESC at East. That was another part of the big draw to come back here: the ones that were trying to get the garden built were the ones that got the garden started at [CMSE]. Just seeing the impact that they made at CHS9 and then here was just very appealing to come and help them see it through. 
 What prompted your interest in the environment? 
My family had a big farm [outside of Nashiville, Tenn.] when I was little and my grandparents had a farm with dairy cows and I grew up around it – I love all the living things. I've always been an environmentalist; My parents have always promoted independent thinking. I cannot think of a time when I did not care about the environment. I have been gardening for 15 or 20 years on my own. 
What is your favorite topic in anatomy and physiology?
I really like the nervous system and learning about the brain and mental health, because I think it is such an interesting topic that people don't know a lot about and it is relevant to our times. There are so many questions that people ask during that lesson or unit that I have no idea what the answer is. 
Follow Varshitha (@varshitha1128) and @CHSCampusNews on Twitter.