Coppell defeats Plano with doubles victories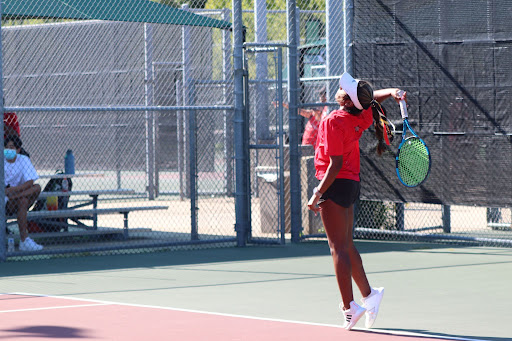 Both set points for Coppell mixed doubles team junior Lindsay Patton and senior Cason Cole, at 5-3 in the second set, were put to a quick stop by a dominating Plano senior Herman Aguirre at the net. 
Had they gone past him, the ball would be met by his sister, Plano sophomore Marian Aguirre, line one singles in girls to Herman's line one place in boys, and half of the strong mixed doubles team Plano put up against Cole and Patton. 
"Our chemistry is good, just not as good as siblings chemistry," Cole said. "We had a slow start in the first set but then in the second set, we picked it up and then we choked it. We got a little too comfortable and then played well and got the big points."
Despite Coppell's eventual 2-0 loss in mixed doubles, each of the other six doubles matches were won by Coppell, putting up an overall winning score of 17-2 against Plano for its first District 6-6A match and victory.
"We picked it up a notch or two and I feel like we're coming together as a team," Coppell coach Rich Foster said. "We've been playing longer than they have, when we went to Abilene, we struggled a little bit with heat issues, we battled through that and we became stronger and they had some kids battling some heat issues today because I don't think they've been on the court quite as long as we have."
With its strength in boys and girls doubles, Coppell continually enters the singles matches, typically put on the courts after doubles, at a mental advantage. However, apart from mixed doubles, the second defeat also involved an Aguirre: Herman, who holds a Universal Tennis Rating (UTR), the objective and consistent index of each player's skill, of 10. Coppell's line one singles player, senior Vinay Patel, who lost to Herman 2-0, holds a 9. 
"We dropped a couple of matches to them but they've got some really solid kids at the top of their lineup so it's nothing for us to worry about," Foster said.
Coppell plays its biggest competitor of the season on Tuesday at Plano West at 4 p.m., who is ranked No. 2 in Class 6A, according to Foster. 
"They're going to be a tough matchup – we're going to go into that smart," Foster said. "We're on a bit of a high note but our kids are smart, and they know that on paper, Plano West is a stronger team than we are and we're just looking for a good battle and we're going to work as hard as we can and try to pull out an upset there."
Follow Anjali (@anjalikrishna_) and @SidekickSports on Twitter.