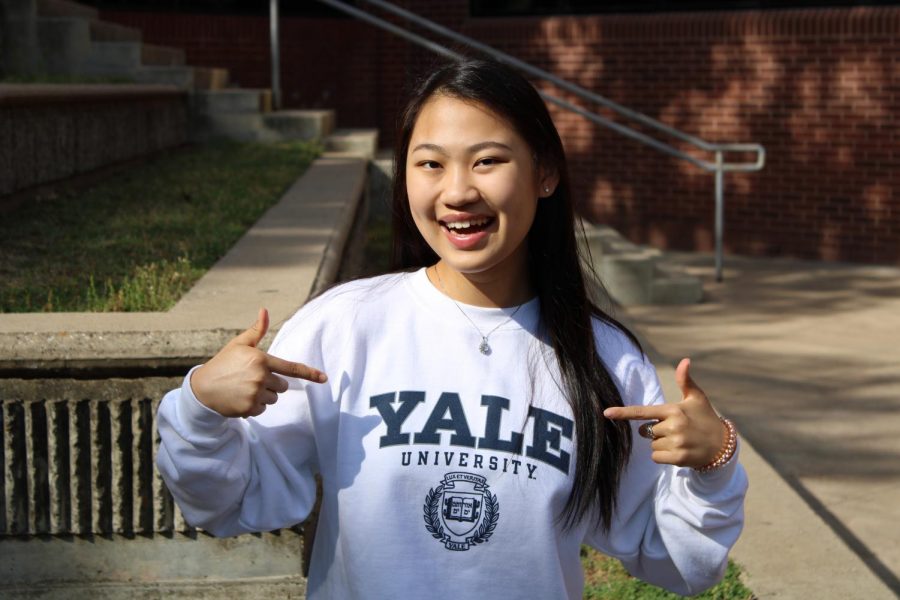 Helen Tan
What does being in the top 10 mean to you?
It gives me a sense of being proud of myself. When you check Naviance and it's like, "Oh, top 10!" it's the feeling of being proud of yourself and relief as well. It's something I felt right when I looked at my GPA. 
Do you remember the moment you found out you were in the top 10? 
One of my friends texted me and was like, "Grades are out, the new GPAs are calculated," and I was like, "Oh my gosh." I just went on Naviance and was like, "OK, let's just check, let's just look at it," and I saw I was in the top 10. I was elated. It was like, this is amazing. All the hard work has paid off. 
Was this a goal you have always had, and if so, how did you work towards it? 
My sister [class of 2012 Julie Tan] was a Coppell High School graduate, and she was [ranked No. 10]. Growing up, I've always looked at her as a role model, so I knew I wanted to be in the top 10 when my high school career came. That was my goal, and in order to achieve it, I had to have really good time management skills. It's very difficult, [and] it's very hard, but in the end, it's very rewarding. 
Looking back over your high school years, what's one thing you would tell your younger self?
Try not to stress about the little things. If the teacher told us there was a pop quiz, I would always get an adrenaline rush of "oh, there's a pop quiz" and then "this is going to count for a grade, I should probably do really well," and then I got all stressed. In the end, it's the journey that matters. 
Is there anything you would change in your experience if you could redo high school? 
I wouldn't really change much, just take a little more AP classes. I didn't take that much, [because] I mainly focused on trying to get good grades in all of them. I would take more AP classes and try to push myself a little bit more. 
What advice do you have for people who are trying to reach your level of academic success?
Manage your time well, because time management is very important. Especially since I'm an athlete, balancing school and extracurricular events is really important in order to succeed in both aspects. 
What has been the most memorable part of high school for you? 
Taking classes with my friends in itself is very memorable. Each year, usually all my friends take the same or similar classes. I'm also in the [International Baccalaureate] program, so the community is very small there. With that small community, I'm able to take so many classes with my friends and have so many memories from the classes themselves, whether it be cramming one night before an exam or just looking at one of our grades like "oh crap, what happened?" It's just those memories throughout taking all these classes together that really count. 
What are your thoughts on the current education system, and is there anything you wish were different?
There can be some improvement. Specifically at Coppell, a lot of the underclassmen take a lot of AP classes. They basically just grind AP classes ever since freshman year and try to take the max amount. That can be really tiring for a lot of students, because they also want to pursue other extracurricular activities and whatnot. We should possibly have a cap on AP classes. That might just make stress levels lower, and students can really pursue whatever they're interested in more. 
If you were to be remembered for one thing after you graduate, what would it be?
The fact that I'm a student athlete. I'm a competitive fencer, so I travel the world almost two or three times every month during the school year for competitions. It was really hard, especially during junior and sophomore year, when school was a thing and fencing was at its peak in the season, to balance both of these aspects on one plate. If I were to be remembered for one thing, it would be that I'm a student athlete and was still able to balance both of these to an agreeable standpoint. 
Follow Sally (@SParampottil) and @CHSCampusNews on Twitter.