#Starworld: Gunna expressing advocacy, emotion through artwork
The Starworld video series is published every Friday showcasing the talents of a Coppell resident. This week, Coppell High School sophomore artist Shrayes Gunna was selected. 
Gunna has been in the art program since sixth grade at Coppell Middle School East. He thinks art is not only a form of self expression, but can be used for activism as well.  Gunna is a co-founder of Youth Politics Collective. The club aims to foster honest political discussions between students from different backgrounds. 
Recently, the art Gunna has created is a form of advocacy in which he feels comfortable discussing social issues.  In the artwork "King," he said through creative visuals, it can represent the monopoly and greed of capitalism. In the work featured in the video, Gunna shows how social media manifests insecurities and doubts. The gold leaf is a nod to kintsugi, an art style in Japan where one fixes broken things with gold. 
"Art can build an intimate connection between you and the piece to help you interpret, understand and convey your own messages and influence your own values farther on," Gunna said. 
Gunna finds that talking about his problems is not as effective as expressing them through oil paints splayed across thick rough canvas.  The idea that a "picture speaks  1,000 words" takes a whole new definition with him. In several artworks hung on his blue bedroom walls, visitors can interpret and form intimate connections with the pieces. 
"I don't necessarily have a favorite medium of art, but it lies between the use of oil paints and graphite," Gunna said. "Through graphite, I can create well-rendered pieces that speak to the aspects of whatever I'm painting." 
Gunna is also an avid debater on the CHS team, spending almost every weekend competing at tournaments, which ties into his passion for activism. 
Follow Angelina (@angelinaliiu) and @CHSCampusNews on Twitter. 
About the Writer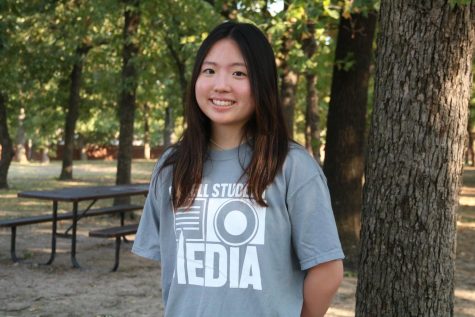 Angelina Liu, Staff Writer
Angelina is a sophomore and first year-staff writer and photographer for The Sidekick. In her free time, she likes to listen to music, spend time with...