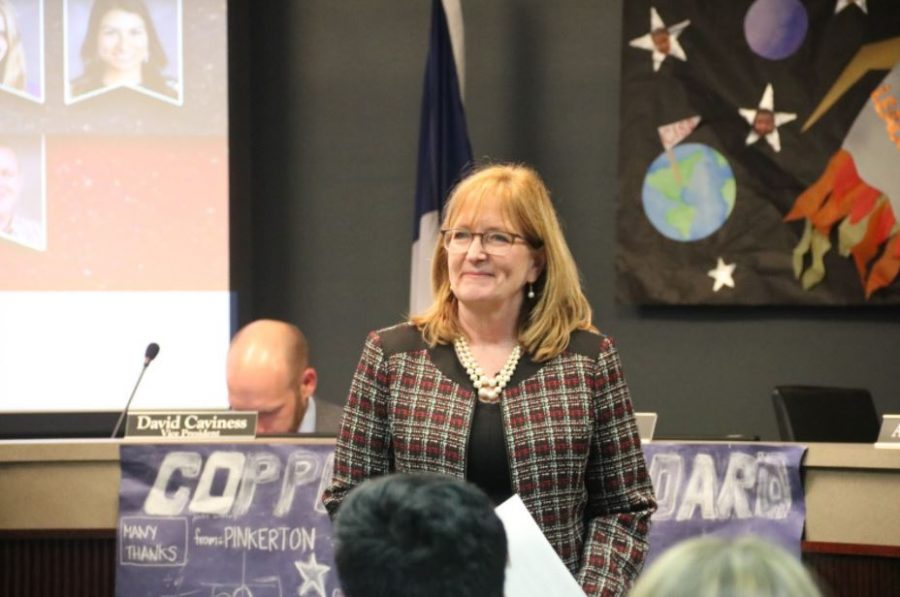 Tracy Fisher (Place 7)
What inspired you to run for Place 7 on the Coppell ISD Board?
Initially, my inspiration and motivation to serve as a CISD board member came from my experience as a parent, a volunteer, and a champion of education over the past 20 years. My motivation to continue serving is to provide stability to the board, to advocate on behalf of our kids, educators, and community, and to continue the momentum to keep our schools great. 
What experiences prepared you for the role of Place 7?
My work experience, volunteering, and my existing school board experience prepared me for this role. Prior to my school board service, I had a successful 14-year work experience in leadership with a Fortune 50 company in supply chain management at three different locations across the country. I facilitated a fully automated plant startup and was recruited by another large company to work with their teams to improve efficiencies and quality. I worked in human resources, marketing, and finally operations where I had 400 employees as a Director at the DFW Airport. I worked in high performing systems by leading and working within team environments.
Prior to my school board service, I volunteered extensively in the community. A school board member is a volunteer. I've been giving my time for over 20 years to our community serving on boards and doing work in schools, community gardens, and veterans organizations, etc. I founded the Coppell Gifted Association and MOSAIC creating a new space that helped kids, parents, and educators in CISD, and I also served on the Board of the Texas Association for the Gifted and Talented for four years.
During my nine years of board service, I completed 550 hours of training, I became a state-certified Master School Board Trustee and was the 2019 recipient of the Leadership Texas Association of School Boards (TASB) "Celebration of Leadership" award.
What are the biggest issues facing CISD?
The three biggest challenges for CISD are navigating state constraints, maintaining our visioning culture, and providing more local student choice. 
What are your plans to address these concerns?
Navigating State Constraints – The legislature passes laws that directly impact both funding and education policy that we have little control over without intentional advocacy. School board roles and responsibilities have evolved, and solid local advocacy efforts in Austin are vital to the statewide public education conversation. As one of four Texas school board members elected to the Legislative Committee for TASB, I have firsthand knowledge and expertise in advocacy strategies and insight having served in this role for more than five years. 
Unfortunately, all state laws are subject to unintended consequences. A relevant example is our current 2021-2022 budget. In August, the school board asked to begin the budget process in December 2020, instead of May 2021, six months earlier than usual, because the impact of HB 3 was still unclear. HB 3 was the most comprehensive education funding bill passed since 1994. It reduced tax rates and Robin Hood – for a time, and gave teachers more pay. It also took away local control and the ability to see very far in the future. Some school districts were forced to pass budgets without knowing their tax revenues. Since December we have had three budget meetings. We are making good progress by including board suggestions for areas to consider, including revenue strategies and cuts that don't reduce our kids' services. Budgeting is a long process, but I am confident, as always, that our staff and board working together will solve any funding gaps. We are also working this session to influence the 60-page "Clean-Up Bill" for HB 3 that will hopefully address special-education funding and other details that need to be ironed out for every district. Stay tuned. 
Culture of Visioning – Our visioning culture has been strong for more than fifteen years. This culture came about through student, educator, parent, and community involvement in our strategic plan. We have seen CISD grow to be a professional educator destination. Our professional learning community is second to none. We have long lists of educators seeking to hone their teaching skills here and then stay. Our turnover in comparison to other districts is low. Our educators provide professional development at many education conferences throughout our state and beyond. Their techniques and lesson design are exceptional, always learning and improving. We are grounded in our core values of relationships, engagement, great teaching, and redefining success. We are rated an "A" district by our state, but that is not enough. CISD believes in a Community Based Accountability System (CBAS) to measure growth and identify opportunities for improvement. CBAS matters because it means our community, including our parents and guardians, students, staff, local businesses and organizations, and taxpayers without children, hold the district accountable. In support of CBAS, the district administers the NWEA Measures of Academic Progress Growth (MAP) assessments. It is imperative to know students are growing. State standardized tests don't inform instruction or measure growth. 
Local Student Choice – If we have learned nothing about traditional, classical education over the past 20 years, we have learned that it is not enough. What child or parent is satisfied with the old school, traditional education their grandparents had? We live in 2021, not 1960, and many charters and some private schools haven't realized that. Integrating technology must empower learning, not just replace pencils and paper. Our community expects "better basics." We want our kids to run into school as fast as they run out. We must offer virtual and blended learning experiences and project-based learning choices like RJ Lee Elementary and New Tech High @ Coppell.  We need to ensure we offer broad opportunities for deep, profound learning as provided by choices like the International Baccalaureate (IB) program, language acquisition through Dual Language Immersion (DLI), and expanding our Career and Technical Education offerings and our fine arts opportunities to include an orchestra program and an elementary fine arts magnet. Growing up, I was athletic, playing basketball and softball.  Today, athletics are extremely competitive. I want to expand our student athletic opportunities in the sports where there are fewer barriers to entry and everyone can play. Students learn important skills like persistence, team building, and risk-taking by participating in athletics. All students need opportunities to be physically, mentally, and academically inspired. 
How would you describe CISD to a stranger?
CISD is a wonderfully diverse community that prioritizes kids, education, and community.