Go-Getter generation fuelling new podcast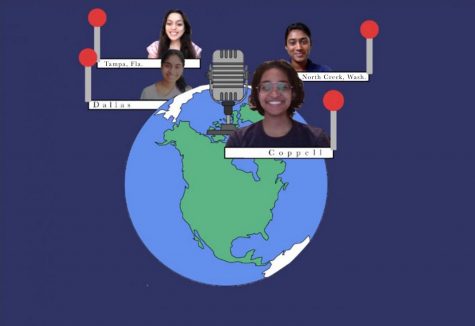 Generation Z (individuals born after 1996) is the most racially and ethnically diverse generation and is set to be the best-educated generation yet. It is also referred to as "digital natives," so what is stopping these individuals from expressing themselves and being the change-makers of today? 
Absolutely nothing. 
Every "Generation Z Go-Getters" podcast episode starts with the same introduction. 
"A team of four passionate Indian girls all over the United States talking about how to be motivated, ambitious, tenacious and confident." 
After meeting through Ultima Tutoring, a student-led non profit organization, Dia Atluri, Shrutika Srinivasan, Shriya Venkataraman and Vaishnavi Vangani were inspired to create a podcast based on their common interest: entrepreneurship. 
"We were discussing ideas for the podcast name, and [the idea] came up in my mind because we were all passionate about entrepreneurship and we all are very ambitious, so go-getters would be the best word to describe us," Venkataraman said. 
Since March, the four have been researching and recording for podcasts, covering topics from motivation to lifestyle from the perspectives of Indian immigrants. They have been working across three different time zones with Vangani being based in Florida, Srinivasan in Washington and Atluri and Venkataraman in Texas.  They have recorded the first ten episodes over Spring Break. 
"The main vision of the podcast was to bring a positive light. A podcast you play in the mornings, to get positive energy  and set your mind to something and really achieve your goals," Vangani said. "We have the power of technology to make a social and powerful impact and it's given us an opportunity to express ourselves and make a change."
During her time at CHS9, Atluri founded Lunar, a non-governmental organization (NGO) that aims to spread positivity to women and combat issues directly affecting their individual rights. Her specific focus is sex trafficking and raising awareness about the subject. 
"All in all, I would like to share my entrepreneurial spirit with others who want to help fix the world and help themselves. There are a lot of different reasons to become an entrepreneur and it's a topic we discuss in our podcast," Atluri said. "I genuinely think the best thing to do with your life is help others, and again, being an entrepreneur not only helps others but also yourself."
Through the podcast, they try to connect their common experiences with others within the generation. Because of their shared heritage, they can also cover individual topics that they see in their community such as Bollywood and colorism, ultimately reforming what were considered to be adult-led conversations into collaborative discussions. 
"Coordinating, getting time together, meeting and making products rely on teamwork, organization and responsibility, and we're still learning," Srinivasan said. "Our product, the podcast, is really a representation of the work we put in." 
They want their listeners to focus on their goals and follow the co-hosts  on their path to becoming successful Gen Z Go-Getters. 
"Not only are we motivating the audience, we are also motivating ourselves just by being in a group of amazing people who do amazing things on a daily basis," Atluri said. 
You can listen to The Gen Z Go Getters Podcast on Spotify here.
Follow The Gen Z Go Getters Podcast here on Instagram. 
Follow Anette (@AnetteVarghese) and @CHSCampusNews on Twitter.