Cowboys can't overcome slow start on Senior Night
Team sweeps Hebron in district action on Friday
After a 5-1 win against Hebron on Friday and a 3-2 loss against Richardson Pearce Saturday, the Coppell baseball team walked off the Coppell ISD Baseball/Softball Complex field yesterday disappointed yet ready to celebrate its seniors after the Senior Day game.  
"On Friday we swept Hebron, which was awesome," Coppell senior shortstop Sam Rodman said. "We all had [a lot of energy] and were having a good time .But baseball is a tough game, it can bring you right back down to where you were."
Pearce held the lead at a score of 3-0 in the bottom of the seventh as Cowboys fought to make a comeback. 
"Our lineup did a great job being able to put the ball in play, especially down [in the bottom of the seventh], but it was too late." Rodman said. "We were able to string [a few] hits together with competitive at bats. We gave it all we had."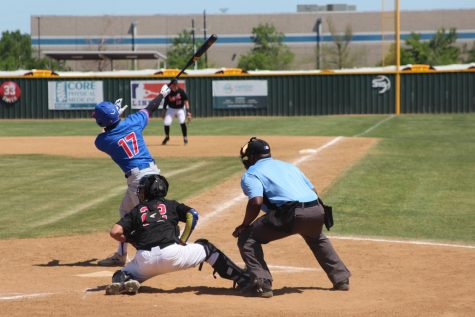 Without runs until the top of the fifth by Pearce, this game was a little different as both teams struggled to take a competitive edge.
"It was a weird game," Rodman said. "We couldn't string hits together until the last inning. If we had got that going earlier we would've been a lot more successful"
The Cowboys left its games this weekend ready to celebrate its seniors.
"It was good that a lot of the seniors were able to get on the field," Rodman said. "It was good to play some baseball on this beautiful day."
The Cowboys host Lewisville on Tuesday at the CISD Baseball/Softball Complex, first pitch at 7:30 p.m.
Follow Torie (@torielpeck) and @SidekickSports on Twitter.