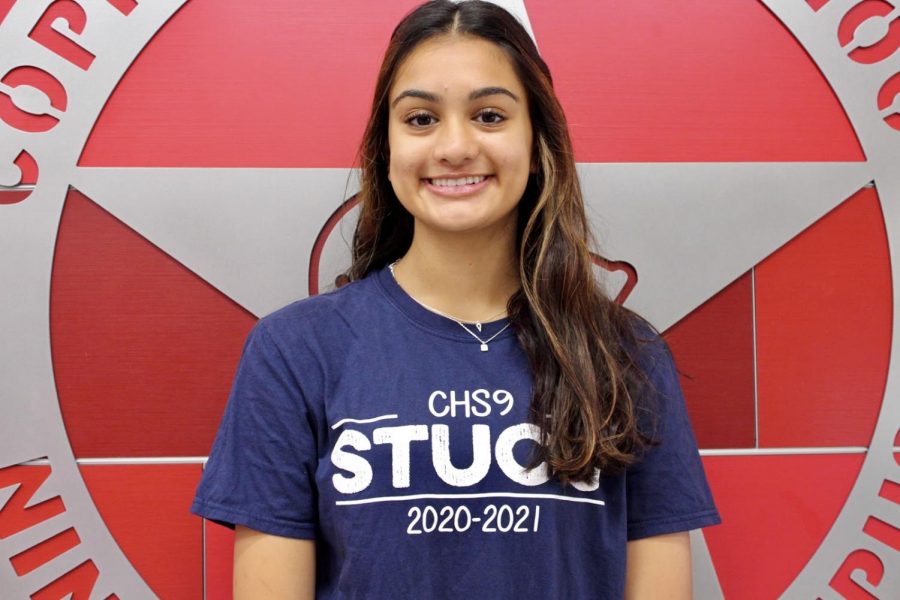 Gia Oswal
Freshman year is intimidating on its own, with a new school, new classes, new teachers and difficult coursework. Adding a global pandemic and being part of a leadership team on top of that is no easy feat, but for CHS9 student and Student Council secretary Gia Oswal, this is daily life. 
As secretary, Oswal is responsible for recording the minutes of each meeting, helping out at the meetings and keeping a list of the topics discussed. Oswal hopes to be able to use her leadership position to bring everyone closer together and help enhance their leadership skills. 
Why did you choose to run for Student Council secretary?
I have always felt like a leader, and I was never one to follow. The other positions did not really feel right like the secretary [position] did. I am really good at note-taking, so I thought that I could apply that to the secretary position.
What is your goal for Student Council this year?
Because it is so hard to get to know each other due to COVID-19, student council has allowed me to get to know a lot of people and have that bond. I want the rest of CHS9, even people who are not in student council, to be able to feel that [bond]. 
How do you manage Student Council and your first year of high school?
It has not been easy because it's hard to do everything from just one desk, but I've been managing it by planning things out, and it's been super easy because a lot of the teachers are so helpful. 
What is one thing Student Council has done that you are proud of?
We have these point sheets, and you can get points by donating extra school supplies to the school and writing to old teachers telling them how much you appreciate them. I'm really proud of that because it's nice to be appreciated. 
What legacy do you hope to leave on Student Council?
I hope to leave that I was a hard worker, that I did everything I could and that I did everything to [the best of] my ability. 
Why do you think other students should join Student Council?
It's not only a great way to make friends, but it's a great way to enhance your leadership skills, and it's a really great community [to be a part of].
Follow @CHSCampusNews on Twitter.