Fronts of Coppell: Matthew Blanton
Fronts of Coppell is a Sidekick series in which executive news editor Shivi Sharma profiles a Coppell business owner to bring awareness to community-based establishments.
You may have heard his story during Coppell High School's Virtual Adulting Day on Jan. 7 or seen his shiny white trailer cruising along Coppell streets with 'Quick Stain' splashed across the side. 
Quick Stain owner and Coppell High School 2007 graduate Matthew Blanton tackles the unknown with hands-on activity. After high school, he took his knack for vehicle work to the Ford Asset program offered by Dallas County Community Colleges and landed at the fabrication department at Rush Ford in Downtown Dallas. Now, he's looking to partner with similar programs and mentor those searching for technical job experience.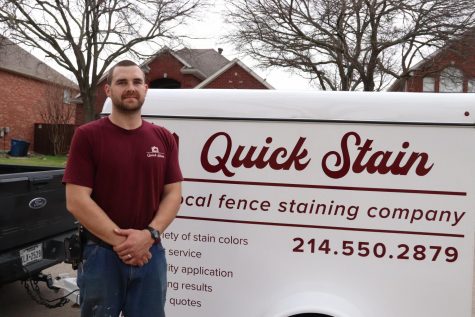 When Blanton was furloughed from bus provider ABC Companies due to the COVID-19 pandemic last August, he recognized a need for a local fence staining business. Establishing Quick Stain in December was not only an opportunity to combine his business knowledge with the technical work he enjoys, but a chance to work in his hometown again.  
Describe Quick Stain.
I like to think of us as more of a wood restoration company. We deal with a lot of mildewed fences. Coppell is in need of some aesthetic facelifts. There are a lot of fences that require attention. There isn't necessarily a company out there that's offering an eco-friendly service that we're providing. Our cleaning process is a very eco-friendly cleaning process while a lot of people are using chemicals that damage the yard around fences. We're just trying to bring the best staining option to the people around Coppell. 
What is a typical day like for you?
I have three children [Wylie, Warner and Winnie]. I wake up, take my boys to school and I'm off to my job. It's either a clean day or a stain day. I start out by getting to the customer's location by 8 o'clock. Depending on how big the fence is, I might be done probably around 4 or 5 o'clock. Then we let it dry for a couple of days and we go back and do the same schedule but we're just staining that day. 
"
The quickest way to learn is by doing something. If you don't know it, you just have to do your best. "
— Matthew Blanton
How did you learn technical work such as fence maintenance?
I went to North Lake College for a couple years and then went to the University of North Texas. I really found that I wanted to be out learning. I wanted to maybe be at a technical school, something where my hands could be building something or working. I found [traditional] college wasn't necessarily for me.
I learn quickly and that's benefited me tremendously. On-the-job training is what I've always tried to do. It's a dog-eat-dog industry. If you're not tough, especially working at a flat rate, the hours that they give you, you're kind of wasting time. If I don't know it, I read about it. I try to find as much information as I can and that's how I learned about Quick Stain. The quickest way to learn is by doing something. If you don't know it, you just have to do your best. 
What is it like running a business in the same community where you attended high school?
A lot of football buddies' families have referred me to a couple other families. Just by word of mouth, everything just spread. I've benefited a lot from working in the same town that I grew up in. Now I get to actually have the chance to help Coppell, which is such a great community. Going off into the business world and corporate world, you get all these relationships. But now, getting to come home and establish not just business relationships but relationships that I've always had that now reach a different level; it's been really cool.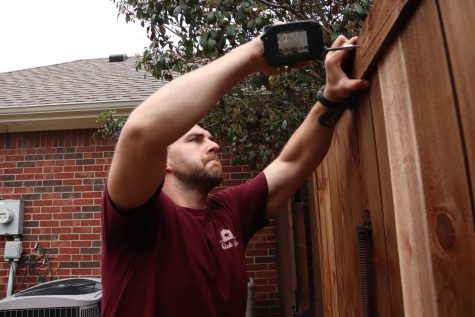 What goals do you have for your business?
There are a lot of technical schools out there that supply a lot of help to students in trying to find a job and whatnot. I'm trying to be an avenue for students looking for first-time jobs or experience and to maybe establish a program with certain schools. 
When I was in high school, I was fortunate enough to work in a small business here, called Pixels at the time. It's Concept 7 Photography now. That was just a really great experience. I learned a whole lot about business and what to expect potentially running my own one day. I just hope to provide that to the other local students that are looking for that same experience because it really was an eye opener, and I learned a whole bunch. It's why I'm here today.
Follow Shivi (@_shivisharma_ ) and @CHSCampusNews on Twitter.