Barry relentless after two decades of teaching chosen craft
He serves the ball to one of his players, watching it thud as it crosses the net. The ball bounces toward his student, and they return it back to him; he adjusts his stance and swing as he hits the ball back, demonstrating and explaining how they could improve. 
Entering the CHS Tennis Center, finding tennis coach Rob Barry on the court is not a new sight. He spends around eight hours a day on the court and has been coaching at the CHS Tennis Center since 1999 as an independent tennis professional.
Barry started playing tennis when he was 8, continued through high school at Harlingen High School, then received a tennis scholarship to play at Texas A&M before transferring to Texas Tech. 
He had his first experience coaching at Texas Tech.
"I traveled with three or four other college players and did some professional touring," Barry said. "It just kind of becomes your everyday life, and I was helping with tennis camps and doing things like that. Next thing you know, people are asking me for lessons."
With his degree in restaurant, hotel and institutional management, Barry originally planned on managing something akin to a sports club. After college, he instead worked at his family's business, a wholesale Mexican import store Rio Imports, and taught tennis before focusing completely on coaching tennis.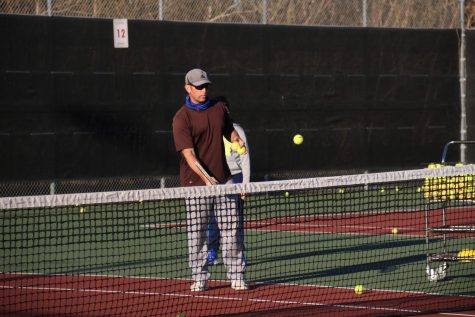 "I was really scared to start tennis lessons, because I started playing very late, but Coach Rob was a super nice person who made me look forward to every Monday and Wednesday at 5 o'clock to 6:45," said Coppell sophomore tennis player Priyanka Bhutani, who was coached by Barry when she was at Coppell Middle School North. "He made me so happy to come everyday, and he's just a really good coach who focuses on every single player while doing a group lesson. He really pushes you hard to structure your goals, and [he] put me in a spot where I'm now on a good team."
Coppell coach Rich Foster, having worked with Barry for 21 years, thinks his experience in college tennis at a Division I school is what has helped him become a great coach and has watched his effect on Coppell tennis up close.
"When he first came on board, he personally coached a lot of our players who played on varsity," Foster said. "Now, he may have one or two of my varsity players, and he hits with several of my junior varsity players, and he hits with a ton of our middle school players and elementary school kids that will one day be our players. It's fun to watch those young players who are in fourth or fifth grade. You can already see they're going to make a big impact on Coppell tennis, and he's bringing them along."
The reason Barry has stayed at one facility for so long is because he appreciates all the high school tennis coaches who have worked with him there and continue to make his job fun and enjoyable. 
"I love seeing the kids improve," Barry said. "[I] see how they grow as they get older, with their game, their mental part of it, their physical part of it [and] seeing how big they can get and how that changes the way they play. I always like to see what I do [as a coach], but it's mainly the kids that do it themselves. I just try to guide them in the right direction."
Follow Iniya (@iniya_v) and @SidekickSports on Twitter.