Fronts of Coppell: Amir Khan
Fronts of Coppell is a Sidekick series in which executive news editor Shivi Sharma profiles a Coppell business owner to bring awareness to community-based establishments.
Since Coppell Music Academy owner Amir Khan began playing the cornet in his sixth grade brass band in Karachi, Pakistan, his love for music followed him around the world and throughout his career. His experience starting his own band in college led to him releasing his first solo instrumental album called Space Dimensions with EMI Studios in 1990. 
After moving to the United States in the late 1990s, he took an online course in music production, specifically ProTools, from Berklee College. Khan applied his understanding of recording equipment and digital audio workstations (DAW), to his instrumental tracks, which gained placements in shows like "The Travel Channel", the "Ray Donovan Show" and "Zumbo's Just Desserts."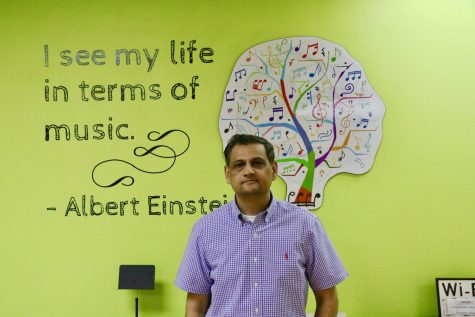 However, Khan realized how much he missed teaching music and established a piano program at the Coppell Recreation Center in 2009. That program expanded to contracts in  nearby cities until Coppell Music Academy opened its doors in 2017. Amidst eight months of virtual lessons due to the coronavirus pandemic, Khan is currently establishing a second music academy in Flower Mound. 
How do you produce music? 
There used to be a room full of huge mixers and huge recording equipment. It was just not possible for one person in their room to produce that kind of music, but now it's all possible. You just need a good quality laptop that can run those songs. I use different kinds of software. Pro Tools is one of them, which a lot of professionals use. I'm using the current propellerhead reason, it's called a digital audio workstation, or DAW. That's my main platform on which you do most of your recording. In addition to that, you have something called plugins. 
In the olden days, you would have a huge synthesizer. That had a specific kind of sound. That's why people had all different kinds of synthesizers. Now what they've done is, it's all software based. They just make these plugins that represent that library. You can buy them and just plug them in together in your mixer, and you have virtually every sound that you can think of.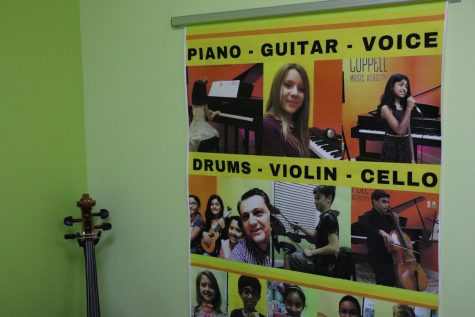 What is your approach to teaching music?
I can teach piano, music composition and music production. At our school, we have guitar, voice, drums, violin, viola, cello. You have to understand what value you can provide, how you can do that and do it effectively. I could hire more teachers, and we could teach more students ,and we could teach students other instruments. Not everybody learns the same way. We all are different. Especially when you're teaching younger kids, it's very hard to really come down to their level and explain a harder concept in very easy terms. 
We have six teachers on staff, and when I hire teachers for my school, I interview them and that's what I'm looking for. Since our biggest market is school-aged kids, I never hire anybody who has not taught kids. 
What was it like establishing your business? 
It was a scary point when you have to sign a commercial lease, which means going into a commercial location and spending a lot of money, not knowing whether you're going to be successful or not. Even though I had business training, you know, real business is very different. For business, the most important thing is, do you have the ability to get clients and retain clients? If you cannot do those things, it doesn't matter. 
System-wise, what that means is offering and doing things that are more than what somebody would expect. For example, in the United States there is no standard certification for students to finish a book. There is no national standard for any kind of testing to finish a level. I talked about it, and I actually created my own testing system. It's all web based, and you go online, and it's multiple choice. Now, since I'm not teaching actively, those are the things that I focus on.
"
You have to understand what value you can provide, how you can do that and do it effectively."
— Amir Khan
What do you love most about being a business owner?
Teaching gives you great satisfaction. A lot of students that I had started when they were young, and they're in high school now. It's like a journey; you've taken them from a child who didn't know anything about music to not just teaching them the technical part of it, but taking them to a level where you can have a discussion with them about music. I'm very proud that I'm now able to sit with some of my students and talk about music. We can have a discussion about bands, styles of music, genres and where the music was in the '60s. 
From the business point of view, the biggest benefit is that because your compensation is not directly related to the number of hours you work once you get successful; you can spend more time with your family which is harder to do when you're in a nine-to-five job.
Follow Shivi @_shivisharma_ and @CHSCampusNews on Twitter.