Liang spreading chamber music appreciation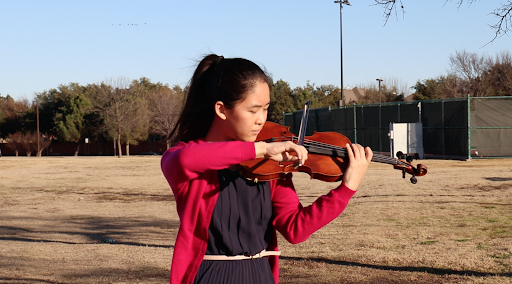 Serendipity: Accidental discoveries which have beneficial outcomes. 
This is the word to describe Coppell High School junior Jessica Liang's unexpected encounter with the violin – an instrument now providing her an outlet for creativity, art and expression. 
Spending the summer in China when she was seven, Liang's mother brought a flyer of several hobbies and extracurriculars so that Liang could pursue a hobby. 
"I couldn't read Chinese [so] I couldn't read any of the words on the flyer, and there's a picture of a girl playing the violin so my 7 year old self was like, 'Yeah, I'm gonna do it,'" Liang said. "I started and just haven't stopped, so it kind of started as an accident."
Part of the reason Liang found the violin more appealing than other instruments is due to its unique, distinctive sound.
"I just love the sound," Liang said. "It's so beautiful. [The violin] is really important in symphonies, and I play in an orchestra, so I love the parts we get to play."
In order to spread her passion for the violin in the community, Liang joined the Chamber Music International Youth Ambassadors (CMIYA), a local music organization which has been around for almost 40 years. In the organization, Liang is part of a string quartet and is part of the blog team.
"She's very enthusiastic and passionate about what we do, and that's really unique because one of the aspects of our program is that we are not just looking for the best players but we also want musical advocates who want to get out in our communities," said Chloe Yang, the volunteer and event coordinator for the organization.
Liang's private lesson teacher encouraged her to join a chamber group or a string quartet in CMIYA so she could improve upon her skills. 
"I love playing with them," Liang said. "It's just really cool being in a string quartet because you learn all these new things [such as] learning your part very well because no one else is playing the same thing and keeping the beat and tempo. I've kind of learned all these things that help my musicianship."
Highland Park High School sophomore Justine Choi, another musician a part of the string quartet, appreciates Liang's efforts and involvement. 
"She's really dedicated and hardworking," Choi said. "She definitely puts all of her effort into what she's doing. She makes sure that if we are lacking in something, she really tries to compensate for that and make up where there are weak spots."
In CMIYA, Liang is also a part of the blog team in which she interviews people and writes opinion pieces and other pieces of work to spread chamber music appreciation. 
"I learned how to express ideas through words because that's really difficult sometimes especially when it comes to music," Liang said. "For some of my articles, I've had to research some stuff about music or I've talked to my teachers about music and that was pretty cool."
Liang is a part of the Greater Dallas Youth Orchestra and Philharmonic First Violin. Liang also found her participation in the blog team to be incredibly rewarding. 
"We had a Bach concert, and I wrote an article about interpretation of his music, and I kind of liked learning about it and publishing it," Liang said. 
In addition to her participation in the blog team, Liang also found her performances with her string quartet to be gratifying. 
"When you're practicing in your room, you're like 'what if this is all for nothing?'" Liang said. "But then you work really hard and once you perform and especially in a chamber group when you're like, 'oh we sound great together,' that's just the most amazing feeling. It feels good to feel like you accomplish something and your hard work was worth it."
By being an ambassador for CMIYA, Liang was also able to receive feedback from other chamber music artists through a master class in early January. 
"Our quartet played and it was pretty cool getting feedback from people I don't know," Liang said. "They really made me think about the balance of what to bring out, and they pointed out some dynamics like you should be a little less here or a little bit more here."
Through her passion for music, Liang has been a great contributor to CMIYA. 
"One of the big things for us is diversifying the repertoire for classical music and that means introducing female composers, composers of color or non-Western classical music composers who are less commonly played, and so she really has a heart for that and for making great music," Yang said. 
Follow Drishti (@drishti_gupta_) and @CHSCampusNews on Twitter.