Cowboys go into overtime to keep its first place seat
After a series of ties on the scoreboard, Coppell rose to defeat Lewisville, 70-65, in overtime on Friday night in the CHS Arena.
In overtime, Coppell (15-2, 9-1 in District 6-6A) and Lewisville (13-9, 5-5 in District 6-6A) were tied at 58-58. Coppell junior point guard Anthony Black rushed the ball back across the court to find the net and bring the game out of a stalemate, where Coppell had a two point lead in the first minute of overtime. Coppell Junior guard Devank Rane solidifies the lead by making a three-pointer and ends the game with two free throws. 
"Going into overtime, we think of it as a game tied at  0-0, where we don't worry about what's happened in the past and the factors that are working for or against us," Rane said. "We just have to worry about those five minutes of the game, and that's exactly what we did and what helped us win the game."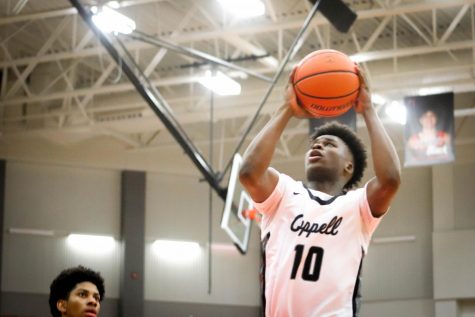 It was Black's game-tying free throw that gave Coppell the momentum to keep making shots. Coppell went from 58 points scored during the match in regular time to 70 points at the end of overtime, a 12 point lead in five minutes of overtime gave Coppell the victory. 
Junior guard Ryan Agrawal plays a major role carrying out the Cowboys offensive plays. Agrawal was out this game with an injury and the team had to step up, where they show to the best of their abilities with full effort to help the team as much as possible. 
"Our defense could use a bit of work because we usually don't give away that many points. That's not really the Cowboys defense at their best," Coppell sophomore guard Alex Ninan said. "[Overtime] is a lot of pressure, but a lot of the guys don't see it as pressure. They just go out there and play the same week after week game after game. I'm starting to see it like them and it's been improving my performance and my mentality."
Coppell has been in possession of first place in District 6-6A for the last three district games. With only four more games left in district, the Cowboys plan on winning the district title for the third year in a row. 
"Our coach always says that each game is the biggest game of the year, just on a different night. We go in with that mentality where every game is a must-win for us," Rane said. 
Coppell hosts Plano East at 8 p.m. in the CHS Arena on Tuesday. 
Follow Anette (@AnetteVarghese) and @SidekickSports on Twitter.