Cowboys cut 13 point deficit to claim victory over Hebron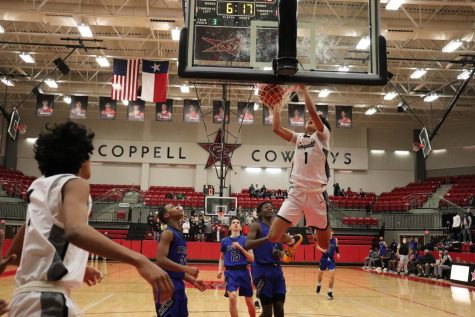 After a rough start to Tuesday's night's game in the CHS Arena, Coppell pulled through in a 66-56 victory over Hebron.
With 4:12 remaining in the third quarter and the Cowboys (14-2, 8-1 in District 6-6A) down by three, Coppell junior guard Naz Brown launched a 3-pointer, leaving Coppell three points behind Hebron (10-9, 4-5 in District 6-6A) . Shortly after, Brown stepped up to the free throw line and gave Coppell its first lead of the night, at 41-40.
The Cowboys took this momentum and relied on hot-shooters to build their lead, ending the game ahead by 10.
"We were on a roll and kept it going," Coppell junior guard Ryan Agarwal said. "We had some guys get [a hot streak] and we kept finding them. [Coppell junior guard Devank Rane] got hot and we had to keep finding him, make that extra pass and move the ball."
Coppell trailed, 16-10, after the first quarter.
"We didn't have any energy in the first half," Coppell junior guard Anthony Black said. "We weren't playing hard or with intent, they hit us in the mouth. At the end [of the game] we responded and took [back] the lead."
At halftime, Coppell trailed, 34-21. Coppell came back from the half with a new mentality and more energy, allowing it to cut through the deficit.
"We're going to have games like this where we have to be able to come back without letting them beat down on us," Agarwal said. "We can't come into any game with the mentality that we're the better team. We have to have the mentality every team is going to give us their best since we're number one."
The win leaves Coppell in possession of first place in District 6-6A, closely followed by Marcus at 7-2. Coppell has five remaining games.
The Cowboys host Lewisville on Friday in the CHS Arena, with tipoff at 8 p.m.
Follow Torie (@torielpeck) and @SidekickSports on Twitter.