Cowboys frustrated early by Denton Guyer, leave as Consolation Champs in the NTX Elite Showcase
A crisp winter breeze set across Buddy Echols Field as Coppell hosted the Black Division of the North Texas Elite Showcase last Thursday through Saturday. The division consisted of eight teams, each playing one match a day. This would be the Cowboys first tournament of the season.
"[The biggest challenge has been] hosting eight teams and worrying about COVID-19 restrictions," Coppell coach James Balcom said, "The biggest thing is that you want to make sure everyone's healthy."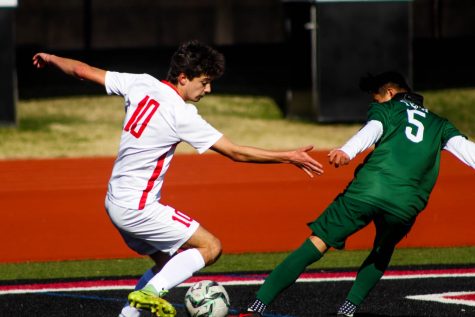 Coppell bounced back after defeat in the first round pushed them into the losers bracket. Ending the tournament with a 3-0 win against Rock Hill, Coppell left as consolation champion in the Black division of the NTX Elite Showcase.
A strong start allowed Coppell to score a goal merely six minutes into the first half. After halftime, the Cowboys were quickly able to take control of the field, as sophomore forward Preston Taylor saw an opening and shot the ball. His floater was sent to the back of the net, giving Coppell a two goal lead. Quickly after, Flores scored the third goal of the match.
"After halftime we were up 1-0, we wanted to close out the match and finish the weekend strong," Coppell Senior forward Brandon Gast said. "We [needed to] stay disciplined and do everything we could do to close out."
Coppell was placed in the consolation championship after a 5-0 win to Trimble Tech on Friday afternoon.
Trimble Tech was coming off of a 8-0 defeat to Irving in the previous round, as Coppell took the lead in the first minute off of a header from Gast. Junior defender Bryson Chen scored off of a corner from Taylor 27 minutes into the game and senior midfielder Sebastian Flores added another one off an assist from Gast to bring the score to 3-0 with seven minutes remaining in the first half.
Coppell kept its foot on the gas through the second half with sophomore midfielder Ryder Brock heading in a cross from senior defender Victor Salvo and Flores tapping in his second of the day.
"After the loss against Guyer, we wanted to prove something and we did," Coppell senior defender Collin Macdonald said. "With our first real match getting put down, we struggled a little getting back into it and calming down. We looked forward and weren't going to [focus] on the loss [against Guyer]."
Coppell's first match was a 2-1 defeat to Denton Guyer on Thursday night.

With 12:56 left in the first half, Coppell sophomore forward Alejandro Reyes scored Coppell's first and only goal of the match off of a corner kick from sophomore forward Preston Taylor. The Cowboys held this lead through the first 72 minutes.
However, Guyer capitalized on a defensive error by Macdonald and tied the match 1-1 with eight minutes remaining. With 1:24 remaining in the match, Guyer sent a corner into Coppell's box and the ball took four bounces between players before ultimately bouncing into the goal, and killing Coppell's championship aspiration with it.   
The match ended with Guyer defeating Coppell 2-1, sending the Cowboys to the losers bracket and Guyer advancing to the winners bracket. Denton Guyer would later win the Black division, defeating Naaman Forest 5-0 in the championship on Saturday. 
"Thursday night, we had a loss to Denton Guyer and if you focus on that result you're upset.We played really well overall and made two mistakes [resulting in goals and losing the game]," Balcom said. "It's early on in the year, obviously you want to get wins but more than anything we're trying to put together good performances. We're going to be quite ready for 6A level teams. We knew that going in and did what we needed to do."
Coppell plays Rockwall Heath at 5 p.m. on Thursday at Marcus High School.
Follow Torie (@torielpeck) and @SidekickSports on Twitter.