UT Rio Grande Valley commit Vargas looks to pursue career promoting youth soccer
Never did Coppell junior forward Reneta Vargas think that her start to soccer at age 6 would lead to dreams of going professional or opening up a training facility designed to build up the skills of the next generation.
Vargas plays for the Dallas Texans, an Elite Clubs National League (ECNL) team and kicked off her first year of high school soccer with the Coppell girls soccer team this season. 
"My dad [Rene Vargas] really pushed me and made me recognize I actually had the talent to play soccer," Reneta said. "He's currently still pushing me to give it my all and give it my 100% to chase my dreams, so that's what I'm working on right now."
Reneta verbally committed to the University of Texas Rio Grande Valley on Sept. 7 via her Twitter account and plans to study business. Vargas has offered skill sessions to younger players over her social media, eventually leading her to envision opening a professional facility in the future that might one day be international. 
"I'm definitely leaning towards having my own facility, an indoor where I train and develop little kids," Vargas said. "My own facility where I can train [younger players] because I struggled to find [facilities] as well."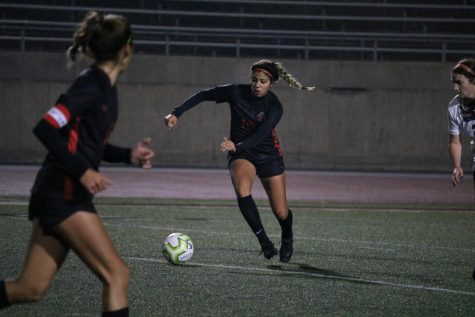 Vargas hopes for a bright future ahead of her after graduation, playing and growing alongside her new coaches and teammates and eventually working her way up to FC América – a Mexico City club Vargas and her father are both fans of. 
ECNL coach Jon Patterson, Vargas' coach of four years, firmly believes committing to UT Rio Grande Valley is the next step in her journey to become a professional soccer player.
"The connection to the coaches where she wants to play and the connections to the professional teams in Mexico is absolutely phenomenal," Patterson said. "It gives her a great opportunity to be exposed to some really good players and grow. [Playing collegiate] is the next step for her; she'll progress very naturally."
Mesquite Horn senior midfielder Genesis Robles, a fellow Texans teammate of four years and UT Rio Grande commit, has seen Vargas' passion on and off the field. 
"She's very motivated to open up her own business, her heart is set on business," Robles said. "Playing club is more competitive and its intense training and at a fast pace. [It's] very good preparation for college so I believe she'll catch on really quickly in college." 
Follow Anette (@AnetteVarghese) and @SidekickSports on Twitter.