Coppell for Youth tying community together with friendship
As the white, purple and gold string tightly intertwined, five sophomores and more than 50 children in hospitals became connected through the friendship bracelets they all shared. Coppell for Youth brought joy to the drab walls of the hospital with their friendship bracelets.
In eighth grade, current Coppell High School sophomores and Coppell for Youth leaders Meghana Ambati, Maya Palavalli, Ananya Adiki, Apurva Betgar and Anusha Patel were a part of Destination Imagination, a club not associated with CHS, in which the five sophomores formed a team and competed at a district, state and global level. Their previous teamwork, paired with the challenges of COVID-19, sparked the creation of Coppell for Youth at the beginning of the 2020-21 school year.
"We all bring something different to the table, so we stayed together and formed our own club," Patel said.
Palavalli, Betgar and Patel contribute to the creative aspect of the club. In their recent project, giving Halloween goodie bags to Children's Health in Dallas, they made cards and friendship bracelets. 
Meanwhile, Ambati and Adiki work on organizing, monitoring progress and seeking out possible projects by contacting hospitals about ways they can contribute or donate.
The club targets elementary and middle school learners, especially those in hospitals. Due to COVID-19, these children in hospitals are more isolated because of the new rule of seeing only one family member at a time and deprivation of a traditional schooling experience.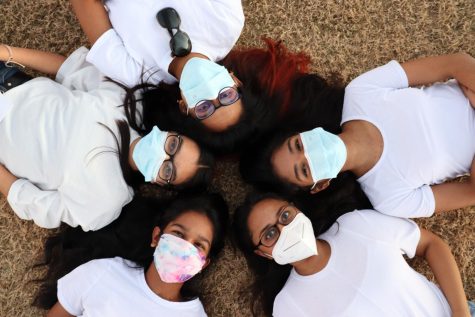 "Children at this age long for socialization," Ambati said. "On a personal level, we all feel the effects of COVID-19 and the loneliness it has brought, so I can't even imagine what the children in the hospitals feel."
Though COVID-19 restrictions stood in the way of Coppell for Youth seeing the reactions on the children's faces, the club imagines their interactions with bubbles and coloring books, giggles at Halloween puns on cards while cherishing handmade friendship bracelets.
"I hope the children will have as much fun with the contents of the goodie bags as we had assembling them," Patel said. "Since they couldn't celebrate Halloween, we brought the celebration to them. We hope to set examples and be role models for the youth that we connect with, which in turn empowers those kids to do the same."
The friendships formed are reflected in the goodie bags. After putting the bags together, Coppell for Youth leaders decided to make their own friendship bracelets to bind their bond and extend that friendship to the children. They are now physically and metaphorically tied together.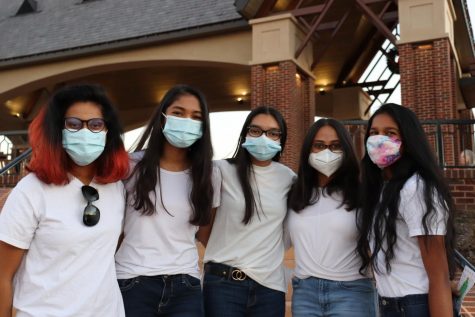 "We do have disagreements, but since we have been through so much together, we know how to overcome those challenges and make an effective impact on our community," Betgar said.
While Coppell for Youth is not a Coppell High School advised club, they plan to establish it next year after COVID-19 concerns die down. They also hope to get a club sponsor and recruit new members as they expand.
"The most important thing is that the community sees we are having fun with this, [so] they can also have fun with it," Palavali said. "We plan to connect with kids in a way that they resonate with."
Through personal touches, such as the friendship bracelets, Coppell for Youth hopes to establish a connection with disadvantaged children. Though the items they provide are small, they hope the impacts are much larger.
"I feel like I have a purpose through this club," Ambti said. "Our youth are the leaders of tomorrow and if we focus on them, it will create a path for success in the future. Coppell for Youth strives to make a difference within our area to inspire children to be the best version of themselves and work hard to achieve their goals. We hope this club is a symbol of hope and security to everyone."
Follow Sapna (@sapnaamin7) and @CHSCampusNews on Twitter.