Fronts of Coppell: Michelle Zenici
Fronts of Coppell is a Sidekick series in which executive news editor Shivi Sharma profiles a Coppell business owner to bring awareness to community-based establishments.
At popular New Orleans restaurant Gambino's in the 1970s, Coppell parent and Missy's Cottage Bakery owner Michelle Zenici fostered her love for baking by teaching cookie classes to Girls Scouts. 
Last September, a revision to the Texas Cottage Food Law allowed bakers like Zenici to sell goods without working out of a commercial kitchen, within certain guidelines. After receiving a certification  to work under the law, Zenici established Missy's Cottage Bakery on July 3. In nearly six months, her Facebook business page has become a thriving hub for customers and photos of her delectable cakes and cookies, which she bakes fresh daily.
Describe how you came to your current business model. 
It started with the lack of availability for consistently fresh baked goods. Then, unfortunately, Frost Cupcakery closed and Zenzero closed, so [now] we don't have a real local bakery in Coppell. The idea behind it is to get some items out there that people may enjoy. I try, by about 4 o'clock, to determine what isn't going to be sold from the order, because people in general place orders in advance once they see the menu, even the night before. People love sample boxes, and so if I can, if I have a few different extra items, I'll do those. Usually later in the day, I'll cut the cost a little bit. The way I look at it, even if I take a few dollars less for it, most of the time I get one or two new customers for it, and they become repeat customers. 
How do you connect with customers?
I was never on Facebook, or any social media prior to June. I had to learn all that, and I started a Facebook business page. That's the only thing I use. Through that business page, customers message me directly. Then we can communicate the order details with payment, address, and information. I try to make the ordering process easy. People just have to select a time every 15 minutes through the calendar that I have on my page. It's already packaged, it's boxed, it's nicely presented, with a label with all allergy information on it. It's professionally done. It's not just home-based food wrapped in foil.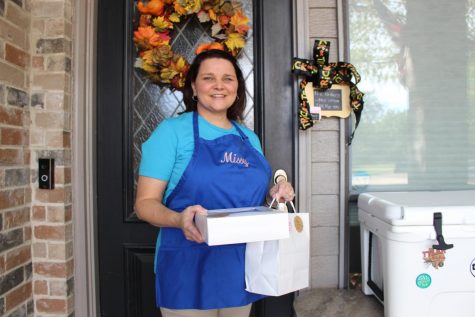 What is a typical day like for you?
It depends on what's on the menu and the orders that I've received. So, on a cinnamon roll day, I am up usually at 2 a.m., because there's a lot of proofing necessary. I get up anywhere between 2 a.m. and 6 a.m. But what I find challenging is that it's just me. My phone will be pinging and I'm getting messages and I don't know, "is that another order, now do I have to do a triple batch?" I like to have my baking done by noon. But, I could be baking extra batches until 3 o'clock and then people pick up even at dark.
What are some of your favorite recipes?
King cake. It took me a long time to get a recipe that I really like and that reminds me of home. My top ones are that and then my birthday cakes that I bake. It's a triple-layer almond cake with one layer of pineapple and one layer of strawberry with buttercream. It's the cake I bake for myself every year because I could not get a bakery here to do it for me. 
How do you balance working in the airline industry with your baking business?
I've been a flight attendant for 28 years, and I've been with [Southwest Airlines] for 26. I usually work two to three days a week. My initial concept was to do Missy's Cottage Bakery on my days off, but since the airline has offered some leave to reduce headcount, I've been able to take advantage of that to see if I could get the business to get a footing. It really has, so I've been excited about that. I've been able to alter my schedule a bit to have more time off from the airline industry. The holidays are coming up, and people are already wanting to order. 
Follow Shivi @_shivisharma_ and @CHSCampusNews on Twitter.