Art keeping state beautiful
Zhang wins statewide art spot in Don't Mess With Texas calendar
"Art has always been a thing I can go to when I'm feeling down. It's a homey feeling, and it's just been always something I've been comfortable with. It's very relaxing and nice to do art."
Coppell High School sophomore Ashley Zhang is one of 14 students across the state of Texas to have her art chosen for the 2021 Don't Mess with Texas calendar. 
It started as a simple assignment for class. CHS9 art teacher Elsa Reynolds asked her Art II class to make a piece that fit the guidelines of the Don't Mess With Texas K-12 Art Contest and some of her own. Submitting their piece for the contest was optional. Zhang submitted for fun—she did not think she would win.
Don't Mess With Texas K-12 Art Contest was statewide. She and her parents were very surprised and excited when her dad got the email about her artwork being on the calendar. 
"I wouldn't say I expected [any of my students to win] because it was a competition for the entire state of Texas," Reynolds said, "And then it was all of the grades, so I knew there would be a lot of competitors, but it didn't surprise me that Ashley won."
Zhang does not plan on pursuing art in the future as a career, instead keeping it as a fun hobby or incorporating it into her career. This year, she has not taken any art classes, but still does art in her free time.
"I really like impressionistic art and surrealistic art," Zhang said. "I don't think I have a set art style but more of a personal style. The art style for the artwork is illustrative or figurative art . I am inspired by Claude Monet, Salvador Dali, Francisco Goya and other artists. When I start a piece, I usually search up a bunch of different art to get inspiration."
Her parents enjoy watching her progress with each piece.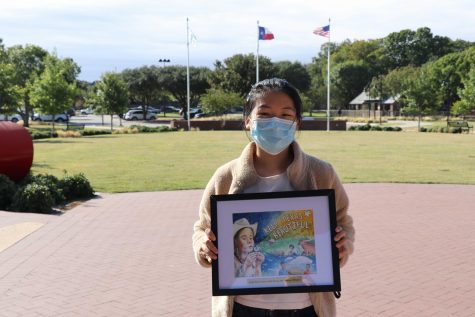 "We're not paying too much [attention] to the [results]," Zhang's mom, Yuhua Zou, said. "She really enjoys the process. [Her father and I] also enjoy the process of watching her [be happy]."
When Zhang was younger, she wanted to be an artist in New York. While her thoughts on a career are different now, her parents are supportive and proud of the work she does. They see her joy in art.
"Art is a part of life," Zou said, "So that's why I watch her enjoy [art]. She creates things [and she's] also very good at it."
Zhang is no stranger to art competitions. She has competed and won awards in the Texas State Fair Art Contest,  Texas State-Fish Art Contest, Lions Club Peace Poster Contest and Junior Duck Stamp Contest.
"She had been producing some really awesome work during the year that I had her. I was very excited [that] she decided to submit [her art to the competition]," Reynolds said, "I'm super proud of all the work she did in my class."
Art is something that is close to Zhang's heart. While not being in any art classes this year, she continues to appreciate and create good art despite.
"I really like art because it is comforting to me," Zhang said. "I really enjoy the creative process of designing and working. It is a way to express my imagination and my view about the world. I also like art because I get to think about things that I have never thought about before. Mainly, I just do art because it is fun."
Follow Iniya (@iniya_v) and @CHSCampusNews on Twitter.