A volley of spirit
Game means friendship, fierceness for Gilliland
Growing up in a family of athletes, it was almost fate that Coppell senior middle hitter Madison Gilliland got involved in sports.
Starting as a budding athlete playing softball in her local Little League at 8 years old, Gilliland later tried basketball before moving on to playing volleyball at the Coppell YMCA as an elementary student. At age 10, she joined a club volleyball league, Dallas Skyline, which she was a part of until her junior year.
"My parents [Angela and James Gilliland] were athletes and that got me interested in sports," Gilliland said. "I absolutely hated [softball and basketball]. My mom made me try volleyball and it clicked."
Her elder brother, Coppell High School 2015 graduate James Gilliland, played football for Coppell and graduated from Texas Tech University, where he didn't take up a sport, this August. Her younger brother, Coppell High School 2020 graduate Ashton Gilliland, competes in Special Olympics. Her father played basketball at Wayland Baptist University in Plainview before ending his college sports life and transferring to Texas Tech, where her mother played volleyball.
In addition to their shared lives in athletics, Texas Tech is also a part of the family's commonalities. Madison also received an offer to play volleyball for Texas Tech in her sophomore year. Texas Tech's location in Lubbock is also favorable, as it is Gilliland's hometown. She committed to Texas Tech in February of her sophomore year.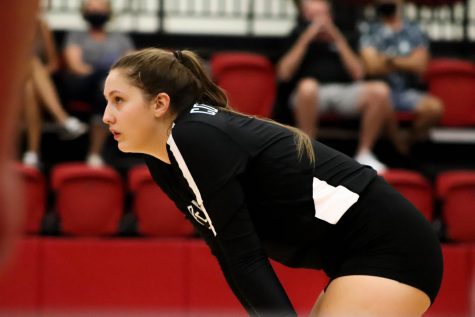 "She had a couple of other offers [from UNT, University of Wyoming, University of Arkansas, CBU, Rice University, Baylor University] and we were excited she chose Tech," Mrs. Gilliland said. "We helped her see the campus and meet coaches, but we let it be her decision."
As a four year varsity player for Coppell, Madison's competitive quality and perseverance play a key role in her accomplishment. Described by her mom as a "fierce athlete," Madison is a strong player and a prominent presence on court.
"I was kind of nervous about getting to play with her," Coppell sophomore outside hitter Skye Lamendola said. "I'd say she's the best player on the team. Madison jokes around and knows how to have a good time, but she never plays around on court – she wants to win and she's there to win. She's a big presence on court."
A middle hitter, Madison's position, is chosen based on the height of a player, since they have to reach high enough to hit the ball over the net. Madison is six feet tall, a little below the average height of a middle hitter, but for this she compensates with her spirit. Another indispensable quality of middle hitters is confidence and ability to react quickly to opponent hits. Apart from scoring, Madison drives her team by helping every player perform their best on court.
"Madison has a brutal honesty about her," Coppell coach Julie Price said. "She has high expectations for herself and her teammates and encourages open accountability within the team. This sets her apart. We're a better team when we have her on court."
These qualities of Madison are also admirable in her personal and social life.
"She's very strong willed, and she is black and white, so you know where you stand with her, and she's not fake," Mrs. Gilliland said. "She's just who she is; she doesn't sugarcoat anything."
Madison can be succinctly defined as a competitor.
"My ideology and mindset is like, 'you got to win' and 'you got to put 100% of your effort,'" Madison said. "That's what I live my life by. For this, my friends call me a competitor."
Volleyball demands strict practice hours and a lot of time spent with teammates. The bond formed while playing together, depending on and lifting each other up is dear to Madison.
"I love the friendships we form on the team," Madison said "You get to experience so much with them – the ups and down and shared victories – and develop a sort of sisterhood. They truly are my sisters because they mean so much to me and we spend so much time together. Character development comes along with that since we help and support each other."
Madison will graduate early on Dec. 18 and play in Texas Tech's offseason volleyball program in January. Even though graduating early is a choice and not a requirement, Madison feels ready for college and believes it would help to develop her volleyball skills and allow adapting to college life early on. There, she is planning to major in psychology.
"It takes effort and motivation," Madison said. "But at the end it's really worth it, no matter what happens."
Follow Nanditha (@nanditha__n) and @CHSCampusNews on Twitter.