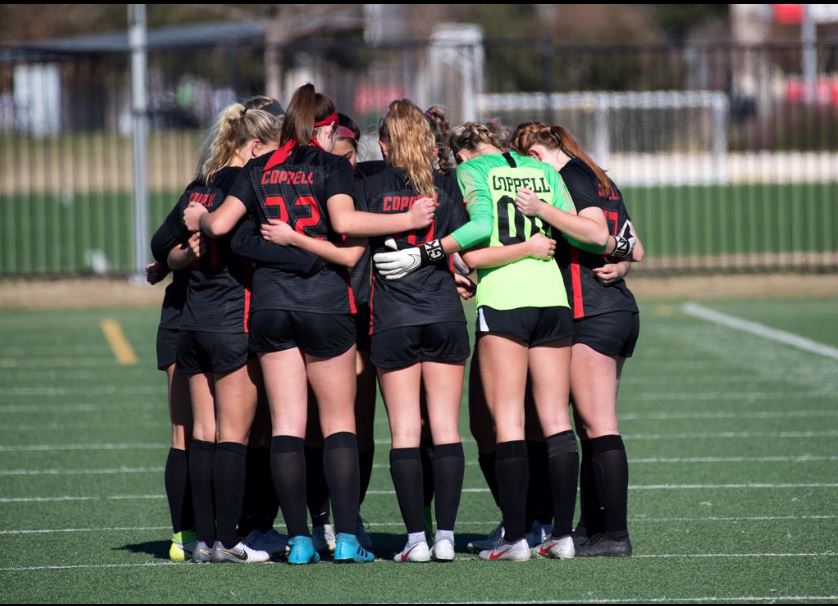 Girls Soccer
The Coppell girls soccer team had a successful winter break, tallying four more wins to make its preseason record an undefeated 5-0-1.
The team's first match of the break came as an away friendly against Mansfield on Dec. 30, where it won, 3-1. 
Days later, the team entered its first showcase: the Dr. Pink Winter Showcase Invitational in Frisco. From Jan. 2 to Jan. 4, the Cowgirls played Frisco Independence, Conroe Oak Ridge and El Paso El Dorado, winning 2-0, 2-0 and 4-1, respectively.
The match against El Dorado was fast-paced and had stood at 1-1 in the 70th minute. However, El Dorado lost its gripping in the final minutes and was scored on three times by the Cowgirls.
"The team that stood out was [El Paso] El Dorado," Coppell senior central striker Alyssa Roemer said. "They were super technical on the ball and we don't face a lot of teams like that. We usually play people like us who are based on possession." 
The team is utilizing preseason matches to fix up any small errors, such as bettering its plays in the center third of the field and doing a better job at finishing attacking plays.
Now, the Cowgirls are preparing to compete against more competitive teams in the Brewer Tournament at Brewer High School from today to tomorrow and the Lady Governor's Cup from Jan. 16-18 at Birkelbach Field in Georgetown.
Follow Akif (@akifabidi) and @SidekickSports on Twitter.