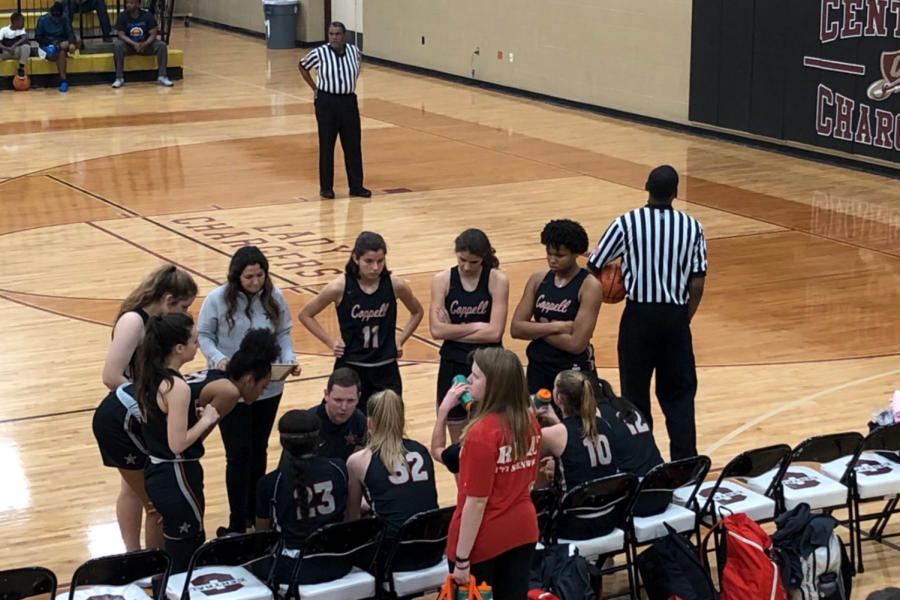 Photo courtesy Coppell girls basketball
Girls Basketball
Going up against some of the best teams in the district, the Coppell girls basketball team began its District 6-6A season with a discouraging start. However, after its first district win on Tuesday against Marcus, the Cowgirls are optimistic for the rest of district play.
"We lost our first three [district] games, but they were the toughest teams in the district," Coppell senior guard Megan O'Neil said. "We came really close to beating them and we played really well against them, so we can make it pretty far."
Finishing in the top four of District 6-6A would send the Cowgirls to the postseason. 
On Tuesday, the Cowgirls won against Marcus, 40-35, winning Coppell its first district game. O'Neil led the team with 12 points (with her season high of four 3-pointers), alongside Coppell senior guard Nicole Obialo with 10 points and Coppell junior guard Chloe Hassman with six points.
"At the beginning of the season, I wasn't getting as many points or contributing enough as I should have been," O'Neil said. "Now, I feel like I'm contributing more and becoming more of an asset."
Cowgirls hosts Irving for the fifth district game tomorrow at the CHS Arena at 11:30 a.m.
Follow Sarah (@syw6338) and @SidekickSports on Twitter.