At #CHSHome: Pickrell teaches students to love English through learning difficulties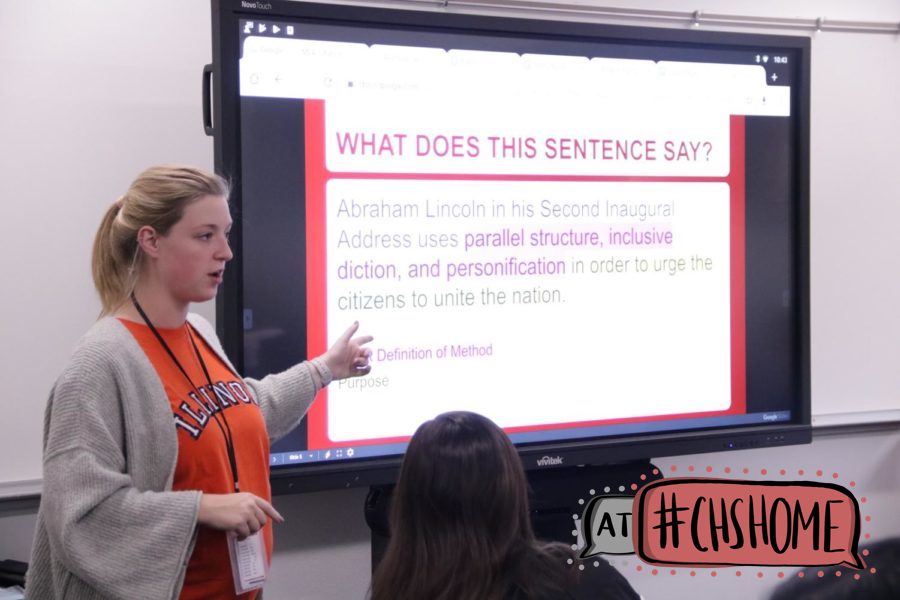 Coppell High School teacher Emily Pickrell combines her love for English and her college experience of working with high school students to teach AP English III and Honors English III to juniors. Pickrell works alongside her husband Coppell ISD digital learning coach and former CHS Spanish teacher Trent Pickrell. Struggling in English throughout her years at Coppell High School gave her a distinct style of teaching and understanding of the students' struggles, allowing her to teach in ways beneficial to those who require extra assistance. Along with imbuing the next generation with a love for English, Pickrell spreads kindness to her students and fellow staff. Pickrell attended CMS West and graduated from Coppell High school in 2011.
Why did you become a teacher?
I did not major in education when I was in college [UT Austin], but I did get a degree in English. I wanted to go abroad, my plan was to move to the country of Zambia and work in their education system there. Although that plan fell through in my senior year of college, I decided I wanted to still use my love for English here. I'd worked with high school students all throughout my college years, so I realized while I was in college that I enjoyed working with teenagers and still loved English as much as I did when I was in high school. I put those things together and became a teacher, and I've loved it ever since.
Why is teaching English special to you?
English was never the easiest subject for me, and I had to work at it harder than I did for other classes. I was the worst speller ever in elementary school [during homeschooling]. That's part of the reason that made it special to me, because as I got older and things started to click more, it was always the class that made me feel the proudest when I got a good grade. I had to put the work in, but I saw the benefits. It didn't come as naturally. It became more special over time once I started taking more in-depth college classes and things like that. I love stories, I love movies, I love books, any good story will always hook me. English is a fun world to get lost in.
What do you love most about teaching English?
If I could teach a whole class over short stories I would. I love short stories. We don't do a lot of that in [AP English III], but I love teaching them. Another favorite part of teaching is getting to know 150 kids or so every year. I'm always amazed by the talent I see in my class, not just in English and in writing, but really getting to know what the kids I teach are talented at across the board. Whether that's in sports or theater or design or engineering, it makes me really excited for the future. Just seeing all the different personalities is what I love.
What do you think you give to the students as an English teacher?
I hope my love for English is apparent. As I said, I had to work at English and it didn't just come naturally so I think that gives me more credibility with the students. Especially with writing and how it's a process, in [AP English III], it's easy to get discouraged if it's not something that comes naturally. Knowing for me what was difficult and how I learned that writing process over time is something I can give to my students and help them get to where they need to be.
What qualities do you want to teach your students?
I hope that my students see me as someone who is kind and helpful and approachable. I really believe kindness is what this world needs the most of, and I've tried to treat every kid the same and kindly. I hope they see the way I talk about other teachers and the administration is positive, and I hope I can be someone they look at and say she seems like she has a joy in her. I hope that changes the way people are treated in this building. Also, I think English makes kids think a lot. It pushes them to see other perspectives and that is something that in this world, we need. They learn how to disagree well. A lot of people don't know how to disagree well and still be kind and respect each other's opinions. Especially when I'm teaching with argumentative, persuasive pieces that are controversial or just pick a side, it's a class that kids can learn how to think deeply about a topic and learn different perspectives, and at the end, still, respect and value other people with different opinions about it.
Follow Anjali (@anjalikrishna_) and @CHSCampusNews on Twitter.
About the Contributors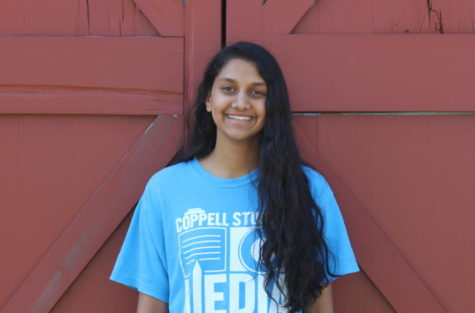 Anjali Krishna, Staff Writer
Anjali Krishna is a sophomore and a first-year staff writer on the Sidekick. In her free time, you can find her listening to music or reading. For questions...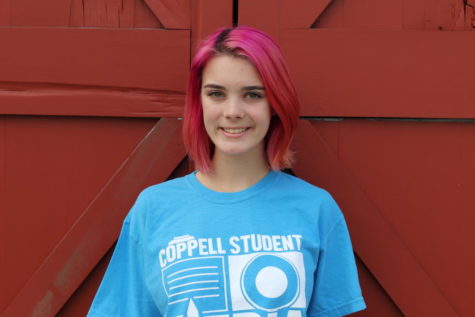 Lilly Gorman, Staff Photographer
Lilly Gorman is a junior and second year photographer on The Sidekick. In her free time she enjoys shooting 35mm film. She is a technician for Coppell...