Is playing school or club sports more beneficial?
February 12, 2019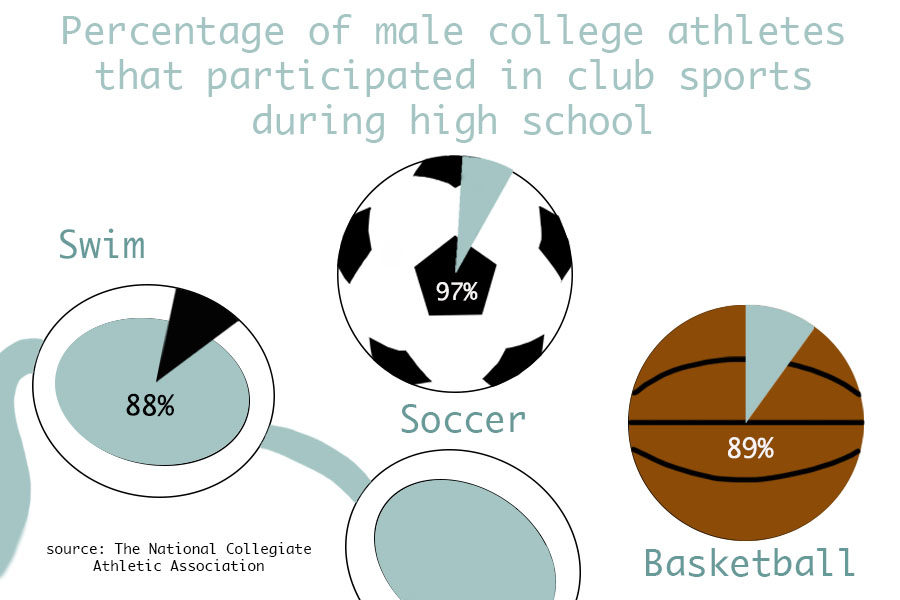 Join the club
Playing out-of-school sports improves athletic ability, life skills
When it comes to athletics, improvement can be found in different areas – on and off the field, in and out of the pool, on and off the court, it varies from sport to sport. What does not vary, however, is that athletes can improve themselves in those areas more when they participate in club sports rather than sticking to high school teams.
People join club teams mainly because they allow for more improvement in the sport itself. With coaches who give more individual attention and a team atmosphere of competition, players can develop their skills to reach their maximum potential. Though the cost of joining may be higher, one gets more out of the program with more direct instruction from coaches, as well as a focus on strategy, individual performance and technique.
According to former Coppell High School girls soccer coach Chris Stricker, many high school players say they play for fun. Because people on school teams are generally playing with their friends, the overall team atmosphere could be more relaxed. In contrast, clubs are normally filled with players who specifically want to improve in the sport, producing a team with passion, talent and motivation.
Statistically, players who played for clubs during high school make up a higher percentage of college athletes in most sports, according to a 2015 study published by the National Collegiate Athletic Association (NCAA). By playing for a club, players are exposing themselves to college scouts more, which could eventually earn them scholarships. This could end up paying back the money spent to join the club teams.  
Apart from the skills specific to sports, clubs offer the improvement of various life skills – for example, the ability to commit. Most club teams have year-round seasons, unlike most high school sports, which means players truly need to commit to the team and the sport.
Such commitment is exemplified in players like CHS senior Jeremy Basso, who plays center back for the Dallas Texans Soccer Club. This elite club, a member of U.S. Soccer Development Academy, has the policy that its players cannot play for any other team (apart from the national team). Basso, who played for the CHS soccer team from freshman to junior year, had to decide between his high school team and a club team.
"I joined [the Texans] mostly because of the competitive environment it provided," Basso said. "It's a team that practices year-round, and the level of play was really what attracted me there."
The appeal of a club team is so large that a person could choose to move away from home to play for a club.
CHS senior Joe McGee moved to Coppell from San Antonio after freshman year to play for the elite soccer clubs in the area. He now plays for the Dallas Texans U19, alongside Basso and CHS senior Raul Carrillo, another athlete who moved away from his family to play for the club and now lives with McGee.
"I've been living away from my family for some time now, it's my third year," McGee said. "That pretty much just says how much club soccer offers. I would never move for a high school team."
Like Basso, McGee has experienced a high school team.
"I played high school soccer in my freshman year," McGee said. "I didn't feel like I was improving or that I was getting anything out of it that I could get in [a club]."
Some may claim club teams do not have the same bond between players that a high school team provides. While it is true that the players do not all go to the same school, this serves as an opportunity for improving social skills.
It is important to know how to build relationships outside of school. The community and social webs in club sports broaden players' horizons in terms of friend circles and prepare them for the next level of their sports: college.
"In college, you play with kids from around the country, not just the kids in the Dallas-Fort Worth area," Basso said. "You get to see a lot of different play styles and personalities and types of soccer that you don't necessarily get to see if you just play in your district."
Club teams offer the chance for major improvements in multiple aspects of life – technical, social and life skills being some of them. They can take a good player and make them better until they can reach their absolute best.
Follow Sally (@sparampottil) on Twitter.
Leave a Comment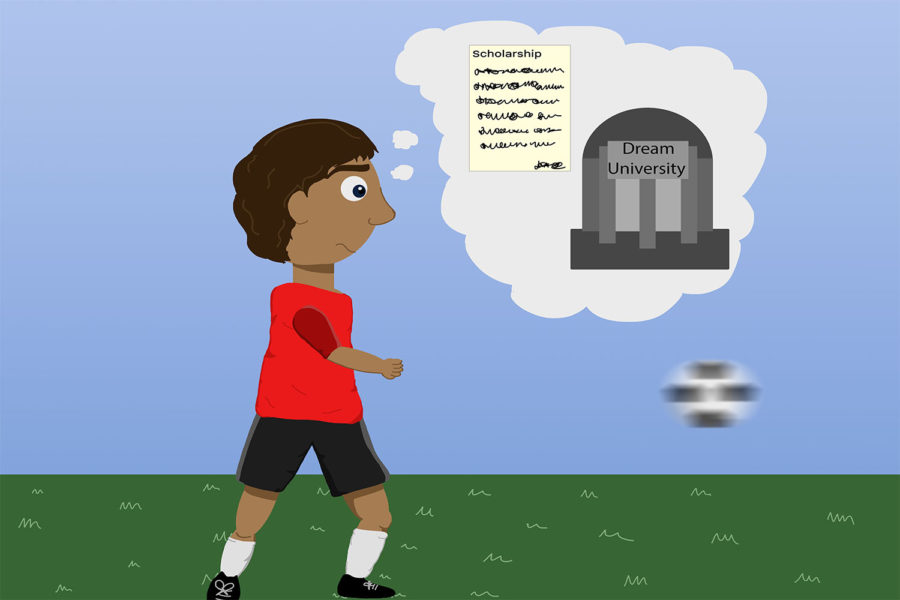 Stress-free sports
School sports give healthy, beneficial environment
I played club sports all my life, often more than one at a time. However, after looking at the amount of money, time and number of sacrifices my parents and I poured endlessly into it, I began to rethink things.
Looking back, I never intended to make it further than high school – I simply played for the work ethic, the teamwork, the people skills and a dozen other morals I learned along the way.
I realized I could acquire those morals without paying tremendous sums each year and having to miss family weddings for a championship game. Those same lessons could be learned through school sports.
School sports often begin in middle school and continue through high school. Middle school sports are important to learning those aforementioned morals, especially for students who have not previously played sports. That is the time when people ignite their love for sports and develop their discipline at every practice.
However, the culture shifts once high school hits.
It becomes less about learning and more about college, less about fun and more about scholarships. It becomes, as Charlie Brown might say, commercial. Oh, brother.
"In high school soccer, you just get to come and play with your friends and just have fun. Obviously you still want to win a state championship, but you focus on more than just soccer," Coppell senior soccer player Mary Ziperman said. "But in club [soccer], your only goal is to be seen by colleges."
While playing on a club team does increase chances of being scouted, there are bigger lessons that come with playing a sport. To many coaches, sports directly relate to life – being a spouse, son/daughter and friend.
"Life is about a commitment, marriage is about commitment. Sports teach that commitment," said Marcus boys soccer coach Chad Rakestraw, who coached the Coppell boys soccer team from 2012-17. "But club [sports] just don't have that same level of commitment. If a player wants to leave a club team, he will. But you can't leave a school team the same way."
Nonetheless, playing sports through school gets players plenty of collegiate exposure. Scouts are typically drawn to playoff games, in which there are a handful of high-level players on the same field.
"We have college coaches come out consistently to high school games," Coppell girls soccer coach Ryan Dunlevy said. "Overall, club teams do get more exposure though."
But is more exposure truly better?
In club sports, there is plenty of elite talent. Thus, colleges try to get to that talent before the others. Because of this, players are being recruited earlier and earlier, taking the fun out of the game and putting in the stress of college.
It would seem that getting recruited early on would take the stress out, right? No more worries of being seen by colleges, you have already made it. But in reality, the opposite tends to occur.
Many players will get recruited and verbally commit to a college in their sophomore and, if they are really good, freshman year. Knowing the future ahead of them, those players then have to worry about injury (and losing their scholarship), more intensive training and maintaining or increasing their skill level for the next three or four years.
That does not sound very stress-free.
The best part of playing a sport is the healthy competitive spirit of the game. When that spirit is lost, and the game becomes a lifestyle, and the pressure of club and select sports set in, one loses the basic values that brought him/her to the sport in the first place.
Of course, club sports are beneficial to play, as they develop a hard-working, competitive nature at the root of them, but do not let them get out of hand. Do not let what began as a fun way to spend Saturday mornings become the most stressful decision of your life.
Playing sports through school is the best way to maintain values such as dedication and teamwork, while still maintaining the fun atmosphere of the sport. So while one should not devalue club sports, one should take the benefits of school sports into consideration.
Follow Nick (@Nick_Pranske8) on Twitter.
Leave a Comment