Williams builds her way to success
CHS graduate named as finalist for the Walt Disney Imagineering competition
Though she never took an architecture class, 2014 Coppell High School graduate Hannah Williams found herself gravitating towards the beauty of buildings and construction from a young age and eventually wound up becoming a finalist in the Walt Disney Imagineering Imaginations Design competition .
After hearing about the competition through career services at the University of Texas at Austin, Williams knew she had to join.
The challenge of the competition was to emulate the beauty of these natural wonders, some of which are remote or no longer in existence, and make it accessible to families while simultaneously respecting the people, history and local rules.
Williams' team's project focuses on the untold story of the Grand Canyon and takes the viewers on a journey through the Colorado River.
"There are multiple myths surrounding the Grand Canyon," Williams said. "There's a Native American myth that there's some kind of third world within the canyon, and we worked with that. Also, [there was] an account from an explorer in the 1900s that he had found an underground city within the Grand Canyon, and we married those two stories together."
Williams' and her team members have diligently and collaboratively worked to create their project. Hannah's passion and interest has made an impact among her team members.  
"She brings things to the table that I wouldn't," teammate and 2014 Dulles High School graduate Kellie Nguyen said. "She's really open to listening to our ideas, and she's also talented in design as well."
The competition is judged mastery of skills and talents, guest experience, diversity
and market perspective, uniqueness, adherence to project challenge, and team
collaboration.
The position as a Walt Disney Imagineering Imaginations Design can open many pathways for competitors, including an animator, architect, engineer, game designer, illustrator, interior designer and much more. Additionally, the top three teams will win a cash award and the opportunity to network with current Imagineers.
Williams' talent has also enabled her and her team to win awards such as the Urban Design award at Future Architects Design Competition which design Dallas' bullet train station.
As a young child, Williams was fascinated by architects and architecture, but did not think of becoming an architect.
"I noticed [her interest start] in middle school," Hannah's mother, Ann Williams, said. "That's when I started noticing she would pick up books about buildings and different architects."
Hannah attended Coppell Middle School North.
After taking AP art history and IB visual arts at CHS, Hannah's love for architecture grew and solidified. Even though Hannah had a passion for architecture, she did not initially have the specific artistic skills to be an architect.
"I know that there was a lot of sketching earlier on at [University of Texas at Austin]," Mrs. Williams said. "That was difficult because she had to learn how to sketch and how to put her ideas on paper."
During her time as a CHS student, current classes such as Principles of Architecture and Principles of Construction were not offered, as architecture was such a specialized career. Due to this, her interest in architecture was hard to express and was often received with surprise when she stated she would be attending UT to pursue it.
Williams is currently in her fifth and final year in the UT School of Architecture program.
"When [Hannah] said she wanted to study architecture, that was it," fellow 2014 CHS graduate Sindhu Garimella said. "She never changed [her major]. Even in her worst moments like when she had a lot of projects due or was having difficulty in her classes, she always really stuck to being an architect."  
Regardless of the challenge or project presented, the aptitude that radiates from the passion Hannah exhibits allows her to conquer the obstacles she is faced with, including the hundreds of competitors her team beat to become a finalist in the Walt Disney Imagineering Imaginations Design competition.
Follow Shreya on Twitter @BeldonaShreya

Hang on for a minute...we're trying to find some more stories you might like.
About the Writer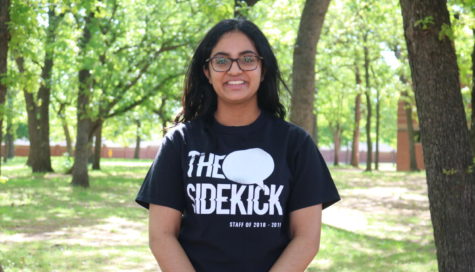 Shreya Beldona, Staff Writer
Shreya loves participating in artistic endeavors such as dance and drawing. Shreya enjoys writing about various topics ranging from fashion to pros and...