Khan kicks his way into success
CHS student excelling in taekwondo and graphic design
Athletics and arts are filled with endless opportunities for students. CHS freshman Zan Khan has a foot in both worlds, showing a passion for not only the sport of Taekwondo but also for graphic design.
Khan attends lessons at the Coppell Taekwondo Academy at least three times a week, and sometimes puts in additional practice outside class. Dedicating himself to martial arts has impacted many corners of his life.
"[Taekwondo has] developed my respect, my confidence and my overall personality," Khan said. "[I also love] the ability to use what you learned [in martial arts] in real life. Other sports, yeah, they help you out physically, but what is kicking a ball going to do?"
Despite the fact that Khan has been enrolled in martial arts since age 5, he did not always appreciate it as he does now.
"When I was little, I didn't really care about [Taekwondo]," Khan said. "As I grew up, I developed a passion for it."
Coppell Taekwondo Academy instructor Chris Lemaster, who has known Khan for four years, agrees martial arts has helped him change for the better.
"When Zan first started, he was a typical teenager," Lemaster said. "He thought he was 'all that', swaggering around. Over the years, as he's grown, he's become a much more mature, balanced and polite young man. He's polite to everyone, [and] he's a leader in the classrooms. He has really stepped up and shown excellent characteristics for martial arts, and as a young man in general."
Khan's journey with the sport has not been a smooth one. Over the years, he has suffered numerous injuries, breaking several bones, and has also faced the struggle of moving, which caused him to take a three year break.
"[After my break] I developed a passion for [Taekwondo] again, because I just wanted to go back," Khan said. "I've had many injuries and setbacks, but it hasn't stopped me from doing what I like."
His determination to overcome the obstacles thrown in his path shows Khan has the perseverance needed to succeed in martial arts and further his passion.
"Anybody and everybody can succeed at martial arts," Lemaster said. "But you have to have the attitude and desire to be successful."
When people see Khan from afar, they may not guess he is also a freelance graphic artist, as he is not interested in other forms of art, and has not taken any classes on the subject. However, he has been involved with graphic design for nearly three years.
"I got into [graphic design] because I started a YouTube channel with my friends and we needed channel art, so I thought I would just design it myself," Khan said. "I'm mostly self taught. I purchased some classes but they haven't taught me much."
Khan's designs can be found on his website, where he offers customers logo designs, banner designs and other designs. On average, his designs are completed within three to five days, and he focuses on both affordability and quality.
"I am also open to negotiation to ensure you get a quality design for a fair price," Khan said on his website. "Logos are delivered as vector files which let you resize the logo to any size, without a depletion in quality. Banners are provided at the perfect size for each platform."
Although many teenagers love art, few have the maturity to run a business off their passion, just as few have the dedication to pursue the same sport for over ten years. Khan has proven he can do both.
Follow Pramika on Twitter @pramika_kadari

Hang on for a minute...we're trying to find some more stories you might like.
About the Contributor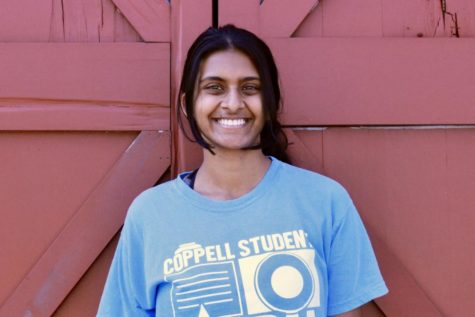 Pramika Kadari, Executive News and Enterprise Editor
Pramika Kadari is a senior and the Executive News/Enterprise Editor on The Sidekick. In her free time, she enjoys reading, writing, watching movies and...