Impact of #MeToo movement trickles down from Hollywood, mainstream media (Part I)
January 23, 2018
Editor's note: This story is a part of The Sidekick series on the #MeToo movement and sexual harassment.
It began last fall when sexual assault allegations were brought up against media mogul Harvey Weinstein. Then, the termination of television figure Charlie Rose after in-house allegations of sexual harassment.
Later it was the almost 150 women who testified to being sexually abused by USA gymnastics doctor Larry Nassar.
Soon, five women accused actor James Franco of inappropriate or sexually exploitative behavior. And now, an anonymous source went on the record to share her story about a date gone wrong with comedian and actor Aziz Ansari.
In October, Weinstein's prominence, associated with decades of Oscar winning films, box office hits, entertainment empire Miramax, famed movie stars and storytelling magic, was tainted with allegations of sexual abuse, assault and harassment; expelled from the Academy of Motion Pictures Arts and Sciences and over 80 allegations of inappropriate behavior against him.
Coupled with the influence of the #MeToo social media campaign, his downfall is considered the watershed moment that spurred a "national reckoning", known as the "Weinstein effect" that empowered celebrities to tell their stories, Olympic athletes to share their years of abuse and women in the workplace to increasingly report inappropriate behavior.
However, the movement has also exposed the scope of the issue and that the movement's influence has yet to trickle down from high profile cases, celebrities, and the mainstream media.
The women behind the movement
On Jan 16., Kyle Stephens took the stand at the Veterans Memorial Courthouse in Michigan and faced her abuser.
Stephens was six years old when the abuse began. Unknowingly, without the knowledge of her parents and alone with Nassar in a boiler room, he showed her his penis.
The abuse escalated to him fondling her breasts and later penetrating her vagina with his fingers. It lasted for six years until she mustered up the strength to tell her parents about it.
However, Nassar, at the time, was a family friend of the Stephens and manipulated her parents into thinking her confession was a lie and even forced her to apologize.
Until now, Nassar had remained unscathed after committing years of abuse as a sexual predator under the guise of a doctor for which he has already been sentenced to 60 years in prison for child pornography charges.
"You manipulated us to trust you because you are a doctor and doctors do no wrong, only heal," dancer and victim Jade Capua, 17, said at the hearing.
Instead of being flooded with feelings of shame, fear, and humiliation when faced by Nassar, for the first time, Stephens, Capua, McKayla Maroney, 22, and dozens of other women felt empowered with the chance to tell the truth.
"Dr. Nassar was not a doctor," Maroney's statement, read by a prosecutor, said. "He, in fact, is, was, and forever shall be a child molester, and a monster of a human being."
With them, almost 150 women in the trial have said "me too", the majority under anonymity.
"
"Little girls don't stay little forever. They grow into strong women that return to destroy your world."
— Kyle Stephens
Looking at the issue locally
So far, the movement has revealed that essentially wherever there is a power dynamic, there is an opportunity for abuse.
In Coppell, the number of reported sexual assault cases, which began to be tracked in 2002 by the Coppell Police Department (CPD), has only fluctuated slightly and remained low, ranging from one to nine cases per year.
Harassment cases which, began to be tracked in 2011 by the CPD, range from 11 to 19 cases per year.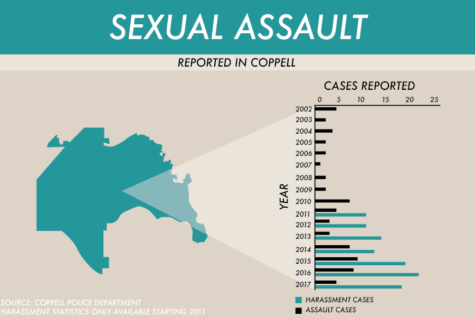 Coppell detective Craig Reed works in the Crime Investigation Division (CID) at the CPD.
"As far as I know, as far as me working here for three years, in my opinion, the crime is low, it's not high at all," Reed said.
Sexual harassment as defined by the U.S. Equal Employment Opportunity Commission includes unwelcome sexual advances, requests for sexual favors and other verbal or physical harassment of a sexual nature.
"If you were to tell somebody, 'I don't want to be contacted' and 'I don't want to communicate with you anymore', and they keep on doing that, that's harassment through communication," Reed said.
An offensive touch which, falls under Section 22.01(a)(3), Texas Penal Code, is considered a class C misdemeanor but for the case to be classified as sexual harassment, there have to be multiple alterations.
It is the least severe crime category under Texas law and is punishable by a fine up to $500, no jail time and a two-year statute of limitations.
Sexual abuse according to the American Psychological Association is unwanted sexual activity using force, threats, or taking advantage of victims that cannot give consent.
For explanatory purposes, Reed gives the example of a 13-year-old child and 24-year-old who believe they are in love and have sexual intercourse. By law, this is considered aggravated sexual abuse of a child.
According to Section 21.11 of the Texas Penal Code, a person is capable to give consent for sexual activity only once a person is 17 years of age.
Police investigative processes
After a sexual assault case is filed, police patrol officers arrive and investigate the scene. If they cannot make a determination or clear the report by making an arrest, their police report is given to detectives, such as Reed, within the CID.
After the detectives piece together the evidence and follow up on leads to gather enough evidence to make an arrest, they will write up a probable cause affidavit for the warrant to be signed by a judge.
The CPD has two or three designated hospitals in the area with specifically trained Sexual Assault Nurse Examiners (SANE) to perform a sexual assault forensic exam or rape kit exam which can offer evidence no more than three days after the incident.
Before the advent of social media, the process of filing a sexual assault case was more tedious coupled with the taboo associated with talking about the issue.
"If you wanted to charge someone, you would have to go down to the police station, actually talk to the police, that's very embarrassing, a lot of times its after the three or four day window when you can do a rape kit," Coppell High School SRO Diane Patterson said.
In regards to the operations of Coppell ISD, the school district handles all minor Class C offenses such as vaping, tobacco and offensive touch.
If the student is under the age of 18 and the incident occurs on school grounds, the offense cannot be pursued by the SROs but rather, the school district.
"We work very closely with the school district on any offense that happens that we would be investigating," Patterson said. "The school district, if we determine is a criminal offense, we are usually the one who will take point on it as far as investigation and the school district will assist us."
Such in the case of the police stepping in to investigate last May's alleged sexual assault case of a special needs student in a CHS restroom.
Education efforts in the classroom
At CHS, intervention services about dating violence, harassment and sexual harassment have been embedded to fulfill state educational requirements.
"That has really happened in the course, I would say, the last 15 years and probably less than that, the reach of what public schools is required to do educational informational pieces on has gotten much broader," CHS Principal Dr. Nicole Jund said.
Jund cites the predominantly female makeup of leadership roles in Coppell ISD as empowering to women.
"It's important to appreciate those who step out on a very thin limb sometimes and know that they have to let their voice be heard and it is a risk to be different," Jund said.
Last May, House Bill 1342 was passed which makes sexual assault protection lessons mandatory in classes beginning at age 5.
According to the bill, it provides "annual age-appropriate, evidence-based child sexual abuse prevention training designed to promote self-protection, prevent sexual abuse of children, and reduce child pregnancy."
The bill was passed partly in response to the 51,000 allegations of child sexual assault in Texas in the last fiscal year according to the Houston Chronicle.
"[It is important to] own that we may not be 100 percent aware of everything that happens, we have to acknowledge our weaknesses in that way," Jund said.
Ending a perpetuating cycle
When CHS senior Riya Mahesh read the Babe.net article accounting the experience of a woman who went on a date with Aziz Ansari which turned into the worst night of her life, she was shocked.
Just like those who fueled the #MeToo movement, she took to Twitter.
"I am so saddened and disgusted by the actions of Aziz Ansari," Mahesh's tweet reads. "Please do take the time read up on it and see what I mean. Please do."
"The only two people I can think of from the top of my head who are Indian-American actors are Mindy Kaling and Aziz," Mahesh said. "The fact that one of those people has done all these bad things and has been accused of sexual assault is just really disheartening because he's role model for so many kids."
Empowered Counseling Licensed Professional Counselor Supervisor (LPCS) Jessica Callahan specializes in helping clients cope with abuse, assault, domestic violence, unhealthy relationships and shame, guilt and depression.
During her session, she emphasizes educating the trauma survivor about their situation to normalize and validate their feelings.
It is obvious that the #MeToo movement has made an impact on the national scale but survivors not in the media spotlight continue to be reluctant.
"[The change] might be not as much as people on the outside are thinking and there's still a lot of room to grow with that," Callahan said. "I still have a lot of clients who in their circumstances, family, community, is still not willing to fully support."
Slowly, the culture and stigma associated with sexual assault are changing.
"The mentality of it has changed to where back several years ago when someone took someone out once or twice and a man paid for a woman's dinner over a period of time and [it was like] they owed them that," Patterson said. "Now society is like nobody owes anyone anything, if you want to do something, it should be your choice to do it whether you are a man or whether you are a woman."