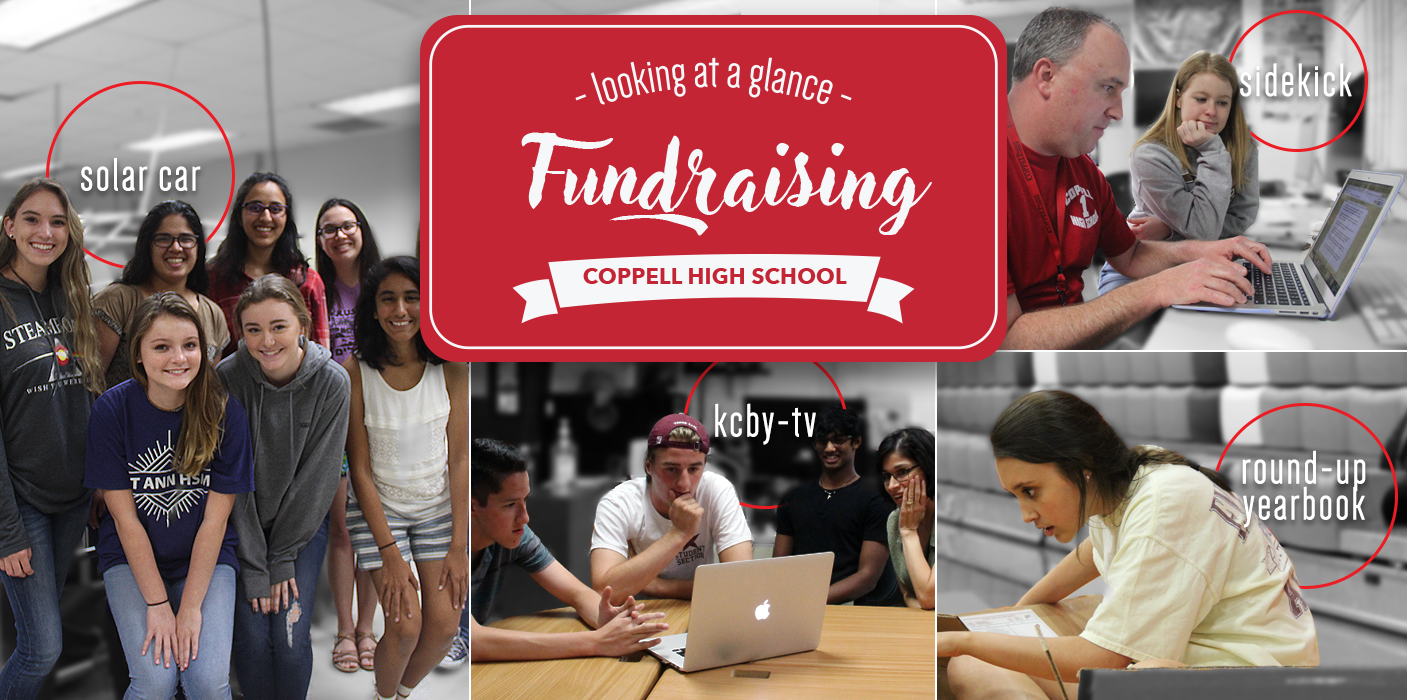 Unconventional funding means for smaller student groups, simplification of funding methods (part 2)
While booster clubs come to mind as the powerhouse of large athletic programs, a booster club is behind almost every successful program at Coppell High School ranging from the solar car team to the football program.
Booster clubs are not only an effective alternative source of income for extracurricular programs but also increase parental involvement and support.
Additionally, coaches and program directors have more flexibility for the uses of money generated by booster club fundraisers and run a more self-sufficient and financially independent program.
Despite their effectiveness by providing programs with voluntary support and financial backing from outside sources, the booster clubs are bound to the guidelines of the Texas UIL (University Interscholastic League).
While the district oversees the extracurricular programs and their respective booster clubs, they are not strictly regulated by the district.
"We absolutely do not regulate [booster clubs], they are their own separate legal entity," Coppell ISD Chief Financial Officer Kelly Penny said. "We meet with all the booster clubs once at the beginning of the year and give them recommendations on guidelines that they need to make sure like they have an annual audit, that they file a 990 with the IRS and those kind of things but that's it."
Booster clubs do, however, need to receive approval from the campus head or athletic director before doing fundraising projects and follow the district's rules regarding capital outlay items.
"As long as [the fundraiser] has been something that has been approved, we don't control their money, we don't tell them how to spend it, we don't do any of that," Penny said.
While Superintendent Dr. Mike Waldrip is ultimately responsible for the booster clubs, the responsibility to keep them in check is delegated to either CHS Principal Mike Jasso or CISD Athletic Director Joe McBride.
The amount of money allotted to each program by the district heavily depends on the number participants in the program.
If a need for more money arises during the year, an additional funding request can be submitted through McBride or Jasso that will then be approved or denied by the superintendent cabinet which comprised of CISD business executives.
There are four main ways programs in the district are funded but primarily, the campuses are sustained through operational funds comprised of taxpayer money.
Secondly, federal and state endowments such title funds especially contribute to certain groups such special education programs, students at risk for dropping out of school or failing academically or ESL (English as Second Language) students.
Thirdly, grants are an alternative but smaller source of income for campuses since there are often strings attached to the agreement such as a matching program or specific guidelines. Teachers have to go through two levels of authorization from the campus head and CISD business office before their application for a grant is reviewed, filed and approved.
Lastly, booster clubs are legally independent entities that generate money to compensate for the district's budget and are predominantly operated and organized by parents.
"Each department is the first approver then they have a supervisor, a business department, that oversees what they purchase so there's checks and balance from supervisors and a purchasing and business officer within the district," said Chris Feris, Birdville ISD athletic director and Texas High School Athletic Directors Association Athletic Director of the Year.
While the district allots a budget to each campus, money distributed to the specific programs is by the principal's discretion.
Internally, there is a process for teachers or coaches to request additional funding, furniture or equipment that is regulated by the assistant principal who is also dean of the department.
Based on the annual new needs and numbers, the district will budget a new amount for each program.
The Sidekick
With $1,000 a year allocated to the program by the district, the CHS student newspaper, The Sidekick, almost parallels the independence of a professional publication despite its ties to the school.
"We have to sell ads, subscriptions, fundraisers to print the paper, as $1,000 dollars wouldn't print any school's newspaper," The Sidekick adviser Chase Wofford said. "I don't say that as if I disagree with it, I kind of like that we have to function like an actual newspaper and bring in revenue to produce our product that mirrors a professional publication."
Since many components necessary for a functioning newspaper are not covered in the minimal budget, the responsibility to print each issue tends to fall on the students.
"I think we make it work," senior business manager Chelsea Banks said. "We don't always see what we need, we probably could use things more than we have. For what we have now, we do well with what we have,"
Banks is responsible for overseeing the advertisements going in each issue and coordinating subscription selling to ensure that costs are met to print each issue.
"Personally, just doing business with journalism has helped me and I know I have the skills if I want to go into business or go back into journalism," Banks said. "I have the skills needed and already gained in high school to be successful in college."
Individually, each member is responsible for selling five subscriptions each worth $15 for printing expenses and to increase newspaper circulation.
To compensate for the minimal annual budget, the district has made a long term investment in the newsroom, room D115, equipping it with notably, 17 Desktop iMacs, a cart of MacBook Pros and Canon cameras and lenses.
Similar to many Career and Technology classrooms across the nation, these items have been purchased using federal funds from the Perkins Act which provides for CTE programs in all 50 states.
According to the U.S. Department of Education, Perkins is the largest federal investment into high schools in America and a significant source for CTE programs.
One of the conditions of the Perkins fund is that items cannot "supplant" or be bought multiple times so that the technology continues to progress.
Through various fundraisers throughout the year, Sidekick members effectively raise $12,000 to $15,000 per year fund their six issues.
"I think it's good to learn that you have to bring in the funding to produce and support the expenses of what your business does," Wofford said.
Yearbook
An annual American tradition, the CHS Round-up yearbook commemorates and captures the people, culture and pride that permeates the halls of CHS.
The project entails making 1,700 copies of a 464 page, 6.2 pounds heavy glossed and colored book.
Wrapping the events of 180 school days and 3,400 students in a book is no easy feat; a book this size is necessary to capture the culture of a school offering over 90 clubs, 30 extracurricular programs and 15 athletics programs.
"I think Coppell ISD is really good with providing us with what we need and they are always there to help us," senior Round-up editor-in-chief Erin Dempsey said.
The cost of the books, ranging from $75 during the summer to $100 on the day of their arrival, is able to cover all the expenses associated with their production, even yielding a profit that goes toward new equipment.
"The books mainly produce the money to cover our costs throughout the year but also this year we started the camera cuties shirts," junior yearbook member Libby Hurt said. "The T-shirts kind of helped fund some [equipment] but that wasn't our main source of money."
All the members of yearbook either have their own personal camera or borrow lenses and various equipment from the equipment room.
"We have a wonderful program here and we are able to get almost everything that we need. However, every year that changes because technology changes so we are always need to update our technology so kind of like an ongoing expense," Round-up adviser Sallyanne Harris said.
KCBY-TV
In an industry whose nature is dependent on the latest and greatest, without investing in the rapidly changing technology, you might just get left behind.
This creates constant need for the CHS student-run television station KCBY to keep up with the ever changing innovations and equipment in its field.
Contrasting the booster clubs of band and large athletic programs, KCBY's booster club is made up of a small group of parents who assist by monetary but also volunteering means.
"My booster club has been a huge asset to our program the support that they give us is to primarily raise money so that we can buy more equipment because of our classroom is very technology rich," KCBY adviser Irma Kennedy said.
In the past, the KCBY has benefited from technology matching funds that helped double their budget but has since been discontinued by the district.
"We are grateful for all the support we get but we do need some extra help," Kennedy said.
The district has provided the broadcast studio, A108, with now outdated technology including a fully equipped broadcast room.
Most of the equipment still serves its purpose but could use an upgrade to continue to compete with the quality of other student television programs. Among upgrades, the program changed from analog to high definition in the past.
"[The district does] provide a tremendous amount. Could we always use a more? Absolutely," Kennedy said.
KCBY receives the majority of their equipment from the district which is decided by the principal and also benefits from the Perkins Act, similar to The Sidekick and Round-up.
Solar Car
Fueled by the sun and school's brightest engineering minds, the CHS solar car, Aurora, is a project built, sustained, and fundraised for by a group of about 50 students in the Coppell School of Engineering.
Considering the materials, special equipment and parts necessary for the car's construction, it costs an upwards of $30,000 to build it according to solar car club president junior MacKenzie Becker.
Additionally, racing the car at the racetrack costs approximately $10,000 for the logistics of the trip like hotels, gas and food.
The costly nature of the project and lack of direct district funding and minimal money from the engineering booster club causes the fundraising component to fall as a burden on the students.
The overarching booster club is designed to holistically sustain the 350 students in the STEM program and all the organizations related to the Engineering program including the Society of Women Engineers, Society of Minority Engineers and the Coppell Solar Racing Team.
"Most of the money for solar [club] is generated by sponsorships, we try to schedule a time with them to give a presentation and ask them for money," solar car club president junior MacKenzie Becker said. "This works better than going around and asking parents for money, we are building a car so it's important to get as much money as we can."
The team does not receive any funding from the district other than being able to use the equipment and labs created using budgeted money.
"[Solar car] is technically is identified as club but also falls as independent to certain extent because they are funded by sponsorships," CHS assistant principal Jamila Thomas said.
The sponsorship program is completely student driven and an independent project and the parent supported engineering booster club just handles the money.
Within the fundraising program, there are different sponsorship levels ranging from individuals starting at $20 to $20,000 at the corporate level.
This program has proven effective, raising $10,000-$20,000 annually and similar to sponsorships in NASCAR, in return for their donations, the business's logo will be place on the final product.
"We usually cover at least our basics. We never cover everything we want like with the kids on the speedway, we can't stay at the hotel and that means an extra two hours of driving," STEM program director and solar team adviser Mike Yakabousky said.
The situation with funding for this costly project has resulted in a simple policy by Yakabousky: "If we don't raise the money, we don't do whatever it was that we were going to do."
The most recent CHS car lasted for five years but this school year, the team decided to built a brand new car from scratch.
"It's really hard when you are trying build a car you need money but its hard to get money without having a car to show it off," Becker said. "So it has been a really interesting type of struggle of how we're trying to balance that to get money."
One of the team's biggest supporters and contributor is Coppell resident and business owner Bennett Ratliff. When the solar car team first started at CHS, Ratliff hosted the team in the warehouse in his office since welding was not allowed in a school building.
During this time, he also mentored and advised the team to kickstart the program, his actions are motivated by his commitment to carry on his craft.
"So every year, I want to do whatever I can to support and encourage people to deploy engineering as a profession," Ratliff said.
"I just love watching what their doing and such a neat program, they are just so successful with it. It's rewarding to see how successful they've been with it, it's  just so fun to watch and I'm impressed with the program."
Contact Tanya @tanya_raghu or [email protected]