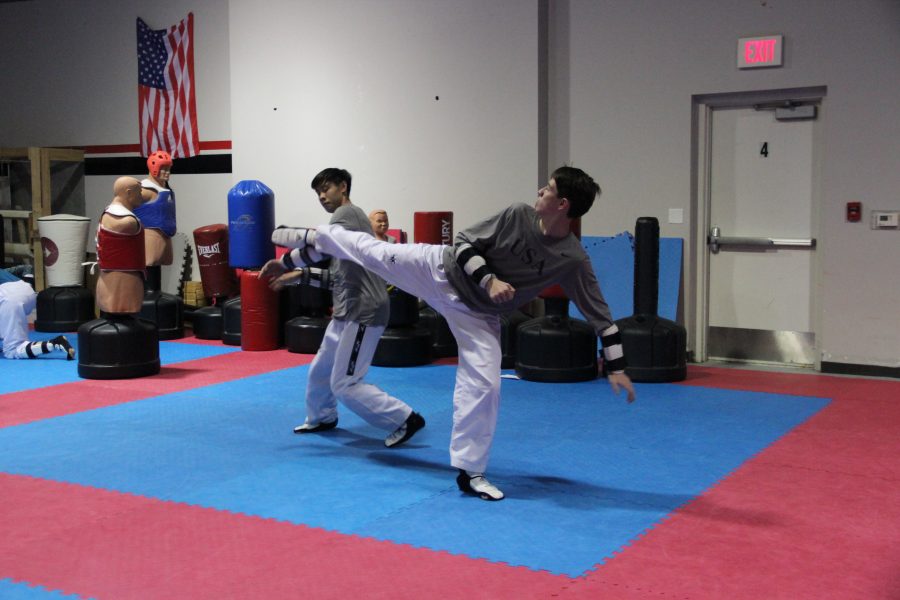 Kicking it up a Notch
Three Coppell Students to Compete in Junior Taekwondo World Championships
October 25, 2016
Nov. 16, in Burnaby, Canada, New [email protected] senior Trinity Sullivan will approach the mat and swing her leg up in the air, six times on the left and six on the right, like she has done many times before.
However, this time, the stakes are different.
Sullivan and two other Coppell students, Coppell High School sophomore Austin Tran and junior Connor Giddens, will face competition from across the globe as they take on the most prestigious taekwondo event for junior athletes – the World Taekwondo Junior Championships.
Although the three Junior Olympic team members have found success in taekwondo by different means, they each have found their passion in the same art; one that has tested them in different ways, but that has made them each the outstanding, floor-dominating athletes they are.
Giddens got his start in taekwondo when he was just 4 years old, but for a different reason than one might expect.
"I was diagnosed with attention deficit disorder," Giddens said. "My parents needed something for me to get all my energy out, so they signed me up for taekwondo. I've been doing it ever since."
Although he started young, over the years Giddens has found in taekwondo what he didn't find in any other activity- passion.
"It started as just something I could do after school, and once I realized, 'hey I have potential in this,' I grew into wanting to be a world champion," Giddens said.
Countless competitions later, Giddens has not only proved himself an exceptional athlete, but has also changed the way he performs in other aspects of his life.
"I struggled with school a lot before I joined taekwondo," Giddens said. "I think it's definitely helped me focus in school, it's taught me how to sit still, and it's taught me self-control and discipline."
For the world competition, Giddens will be heading to Canada for the third time, after winning Gold twice in the Canadian Open.
However, this time around, he will share the floor with 800 other top-level athletes from over 100 countries across the globe.
"We've seen these guys on YouTube, we've seen these guys on TV fighting, they're the best of the best, and now we know that we have to be up there," Giddens said. "It's a lot more to lose with this one, so the pressures on."
While he feels there is still work to be done before November, Giddens is up to the challenge, and is not taking preparation lightly.
"Up until worlds, [Tran] and I were going to the gym a lot more, training a lot more, because we knew the qualifications were going to be harder than any competition we had gone to," Giddens said. "[We] still have a lot of training to do; we have a lot of mental preparation to do as well as physical preparation."
Currently a national titleholder and world competitor, Tran got his start in taekwondo later than one might expect.
"I did lacrosse, football, but after a while I quit that because I realized I was more into individual sports," Tran said. "When I was 12 years old, that's when I got into taekwondo, it all started from there."
However, the later start has not kept Tran from becoming an accomplished taekwondo athlete. During his first black belt competition in 2014, he fought for – and won – a spot on the U.S. team.
Since, his hard work has continued to pay off, as his talent has taken him all over the world, from Azerbaijan to Mexico. His achievements have taught him not only about success in the sport, but about himself.
"When you're fighting, if you're nervous, you'll hold back on what you do, and that will give your opponent more of an advantage," Tran said. "You have to have self-discipline, you have to be confident."
As world competition rapidly approaches, Tran too is accelerating with week long practices and intense training.
"I feel pretty good, we've been training six days a week, sometimes four to six hours every day," Tran said. "[We're] not quite there yet, but we've been working on our conditioning, our endurance, and our strength."
For the final Coppell competitor, Sullivan, world competition is going to be different from those past, but not just because of the tough competition.
"Up until now, I've had to cut weight for this sport," Trinity said. "It adds a layer of stress to do well, but then you also have to not eat as much as you would and just stick to proteins and all the healthy foods. It was pretty difficult."
The seven time national championship winner has found taekwondo to be not just a sport, but an outlet.
"If I really have to destress for some part of the day, it's a great place to go and just kick somebody for an hour in a half," Sullivan said.
From starting in a small taekwondo room above Everybody Fits, to competing in Mexico, Canada, Taiwan, Spain and Germany, Sullivan has learned what it takes to be successful in the art.
"[It takes] discipline and self control," Sullivan said. "It seems kind of yin-yang, tai-chi type, but it really is going to practices six or even seven days out of the week, sticking with whatever weight plan you need to follow, and you lose sometimes, and coming back from that is really beneficial to all aspects of what I've had to do."
As a senior, this will be Sullivan's last time at world competition, and she hopes to make her mark.
"I feel pretty prepared overall," Sullivan said. "There's a little bit of anxiety, but my goal is just to have fun and to do what I know how to do at this tournament."
Sullivan attributes much of her success to her coach, Master Sang Cha, who has trained the athletes for years at the National Taekwondo Association Coppell.
This year, all four competitors from the state of Texas are Cha's students at NTA.
"I'm ecstatic," Cha said. "For taekwondo athletes that are not seniors [ages 17+], that are fighting at this age [juniors  15-17], this is the highest it goes. This is the best of the best of the best for this competition."
For his students, Cha stresses the importance not only the physical part of taekwondo, but the philosophy of courtesy, integrity, and perseverance.
"There are times, presumably, when you go to a tournament, you lose, and you get upset," Cha said. "It is the way that they handle that loss that defines how professional you are. You can't be a champion every tournament, but you can be a winner every tournament, with the way you carry yourself."
From teaching the three students, Cha has impacted them not only as athletes, but as people. However, over the years, Cha has seen the ways that they have taught him as well.
"They taught me that the best way to make them better is to be honest with them," Cha said. "Sometimes it takes having those tough conversations with them. They [also] taught me how to raise my kids, because I have two kids at home and the lessons I've learned from these guys, I take back to my house. My daughter and my son benefitted greatly from the way I handle my athletes."
Cha offers a word of advice to the competitors come November.
"I always tell them over and over, focus on the factors that you control," Cha said. "They have to focus on their own task, what they're going to accomplish, that's No. 1. No. 2, the thing I always tell them is no second guessing, just leave it in the ring. No walking out of the ring going 'ah I could've done this, I should've done this,' you only get one shot."
To follow updates of the competition, you can follow the World Taekwondo Junior Championships on Facebook or on Twitter at @WTJCBurnaby2016.