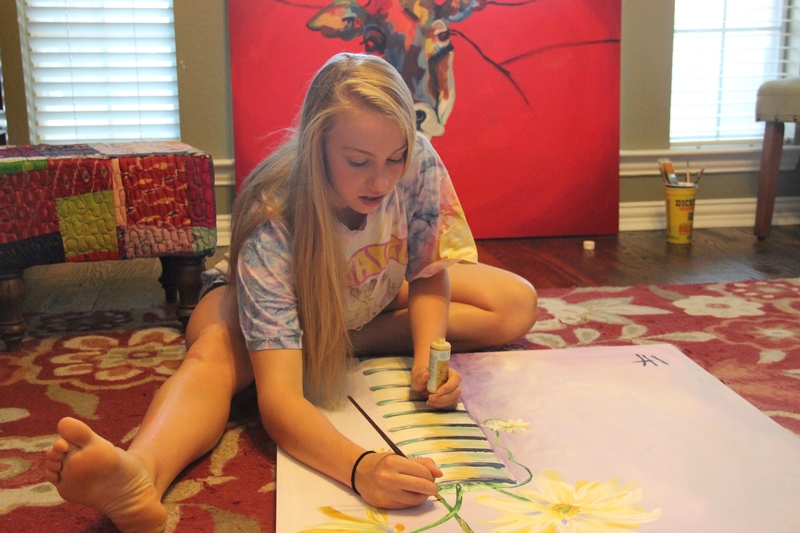 Strokes of passion
Junior Hall pursues her passion by selling artwork and t-shirt designs
Strokes of brushes fluttered across canvases, leaving a permanent mark of blue, red, green or purple. The entire canvas splashed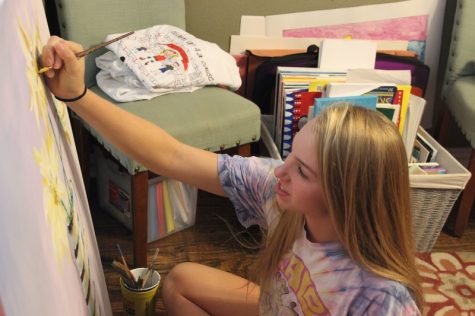 with color as Coppell High School junior Izzy Halls painted a painting for a fellow client.
Hall's passion for art made her an entrepreneur as she began selling her artwork to parents, students, and friends. Her business began a couple years ago, and has since grown.
"It was going into freshman year, about two years ago, or sophomore year," Hall said. "I started to get a lot of requests to do paintings of other people's dogs. Originally I didn't sell them, I just like do it you know. They would come up and be like 'oh can you paint my dog?'"
People started demanding her artwork more and more. One day, when she went into Cutie Pie Pets, a dog grooming shop, she talked about her dog paintings with an employee there.
"I brought some of my work into Cutie Pie Pets, and [an employee and I] were talking about how I did a lot of dog paintings," Hall said. "He was like, 'you should totally start a business and once it gets somewhere I can commission you, and sell your business cards and stuff like that.' That was kind of what sparked a whole bunch of requests, and it grew from there."
Thus, Hall's business took off with people not only demanding her artwork, but also her designs for shirts.
"Last year she was asked to do the design for the Dig For the Cure, the philanthropy program," her mother, Susan". Hall said. "People like them, and she designed the sand volleyball shirts."
Mrs. Hall explained with excitement the events in which Izzy designed and donated shirts or murals.
"She also donated artwork for the Drama club auction and St. Jude's research hospital,"  Mrs. Hall said. 
Mrs. Hall is not the only person amazed by Izzy's hard work. CHS Junior Christina Lo, friend of Izzy and someone who supports the volleyball program by buying their shirts, expressed her appreciation for Hall.
"I think that once she sets her mind to something, she's really hard working and a really genuine person," Christina Lo said. "She is a very humble person."
Lo exclaimed that the shirts she designed for volleyball were cute, and she loves Izzy Hall's work.
Izzy plans on continuing her passion of art throughout high school.
To check out more of Hall's work visit ighallelujah.com
To contact, Farah can be found at [email protected] or @farahmerchant_ on Twitter.