Students of C235, "Stand with Malala"
Students of C235 embark on awareness mission, giving education to girls globally
"I am Malala."
Since October 9, 2012, the echoes of these three words have travelled through the hills of Mingora, a town in the Swat District in Northwest Pakistan to the rest of the world. Malala Yousafzai's story spreading globally, advocating girls' education and empowering girls to unlock their potential and demand change.
The Malala Fund has increased in popularity worldwide ever since its establishment in 2013, by Malala and her father Ziauddin Yousafzai. Inspiration for the fund started with Malala's own frightening, yet later transformative encounter with the Taliban.
On her journey home from school, the Taliban, shot a single bullet that went through Malala's head, neck and shoulder. Malala was an anonymous host of a radio show promoting girls education. Malala, and her father both rising activists reached the hearts of many people in the community. Because of this, she became a threat to the Taliban and their strict, oppressive ideologies. She survived the initial attack, but within her, grew a new passion. In that moment, she became, along with millions of other girls – an advocate for girls' freedom, and education.
The Taliban's treatment of women is regularly defined as violent and misogynist. The stated aim by the Taliban, is to "secure environment where the chastity and dignity of women may once again be sacrosanct." However the environment which they have "secured", rather "forcefully pushed" onto many women, is one of little mobility and many restrictions. The fund has grown in great popularity and effectiveness as Malala's relentless endeavors in the pursuit for female education, abolishes such oppressive, inhumane restrictions and extends not only to Pakistan – but the world.
Coppell High School students in Alex Holmes's sixth period AP English class have also felt the intensity of the cause. By choosing "The Malala Fund" as their focus for an upcoming charity organization project, they have amplified the voices of the millions of girls around the world who lack opportunity of an education, into our very own hallways.
Why Malala?
The class, with one voice, decided that The Malala Fund is much more than just any other organization promoting education. Instead, it is challenging a much greater problem of "fighting and abolishing an intolerable notion the world has set forth for such a long time," said Junior Priya Vanparia. The notion that females are not males counterparts, but their inferiors.
The objective being to spread awareness about one specific organization; the determined students of C235 have been working passionately to communicate the message of the fund, and encourage contribution among students and teachers.
"To me, spreading awareness is an essential act for someone to do whenever they are trying to promote a cause that they are passionate about in order for that specific cause to be successful," said CHS junior Cheny Yang said.
To be successful, for the small class of C235, is to see a change in the student body. See a student body that is more educated, aware and moved.
To do so, the class has made great efforts to increase interest and involvement, from posters lining the school walls, to an active twitter, and other social media accounts.
Informative posters, and flyers handcrafted by the students themselves can be found in the following locations:
Upstairs junior hallway

Freshman hallway

Pit

Cafeteria
The posters carrying  general information, and direct QR codes to social media/donation platforms have generated much attention among students.  
"When we started working on our goals for the Malala Fund we thought it was important for us to be able to reach out both digitally and physically," CHS junior Sydney Blaas said.
Twitter account, @for_malala, created by the class, has allowed students and teachers to receive constant updates about the foundation and times and dates of any future events regarding it held at CHS.
"More than anything, our class united to help the girls in the Middle East who are not as privileged as our girls here, and provide them with bright futures," CHS junior Kayla Hale said. "We really hope that people in our school, and community will help to donate or contribute in any way to this organization, to better girls lives globally."

Hang on for a minute...we're trying to find some more stories you might like.
About the Writer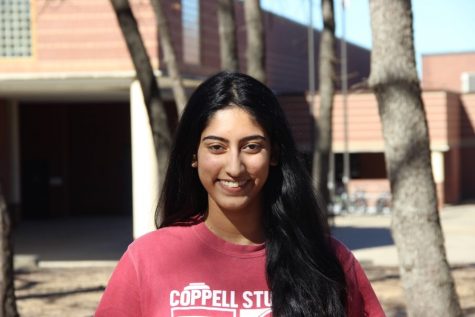 Briana Thomas, Staff Writer
Junior, Briana Thomas, is a South Asian writer whose stories are unfiltered outlets that voice her passions, opinions and beliefs. Briana is intrigued...