Ross returns alma mater
New coach looking to utilize leadership skills from the military background
November 3, 2022
Inhale. Exhale. Repeat. 
In the darkness of a silent Coppell High School Arena, Coppell volleyball coach Robyn Ross sits on the center of the court with her team in front of her. The girls lay flat on their backs, eyes closed, evenly spaced out from one another. 
Ross's voice echoes through the quiet. She begins to intricately describe moments of victory in a match, painting a detailed image in each player's mind.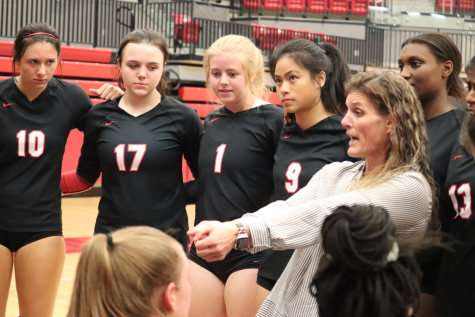 "There's a huge portion of being great at a sport that is mental," Ross said. "We train both mentally and physically. The girls will visualize themselves in high-pressure situations successfully over and over again. It helps that come to fruition when they're actually physically doing it."
As 2000s pop-punk blares on a big speaker in the arena, Ross blows her whistle, leading warmups. 
"The first year has been awesome," Ross said. "I don't think they knew the greatness that was inside of them until this season. It's been a gift for me to get to watch that side of them come out and see them play like this." 
Ross grew up in Coppell and started playing volleyball in sixth grade at Coppell Middle School. She continued to play throughout high school, where she first met CHS Principal Laura Springer, who at the time was her basketball and softball coach.
"She is truly one of my best athletes I've ever coached," Springer said. "This woman is one of the most strong, beautiful souls I have ever met. She has some of the highest integrity of anybody I know. She would never try to win without doing it the right way. Even if she was in trouble, she would take the heat because she's not going to lie. She has amazing ethics. She believes in doing what's right. She believes in living a life that she wants her kids to live and showing and being that role model. 
"I love her like a daughter." 
Ross attended college at the Air Force Academy where she continued to play volleyball. After graduating, she served as an assistant coach for a year at the Academy before fulfilling her six year military commitment as a logistics officer deployed in Iraq. 
"The logisitis piece was a lot of moving, not just the air force but all the services from stateside to wherever they were deploying," Ross said. "I loved my job at the Air Force. Because I deployed a lot, once I started a family it was more important to me to be around to raise my kids than to be in Iraq."
After getting out of the military, Ross was stationed in Virginia where she coached at Nansemond-Suffolk Academy for 13 years. Ross was the most successful coach in NSA's history with an overall record of 272-79. She led the team to 10 consecutive appearances in the state semifinals, six appearances in the state championship match and three state championship titles. 
"
She is truly one of my best athletes I've ever coached
— CHS Principal Laura Springer
Coppell finished the regular season 34-11, finishing District 6-6A in second place and ranked No. 14 in the state as it entered the playoffs.
"I would say that a lot of my leadership styles were enhanced by serving in the military," Ross said. "The outside person looking into our training would see a lot of parallels between how I run a practice and how we train. My leadership style is to lead by example because I want to experience what I'm asking them to do. I think it's important that they know that I'm willing to do everything with them and that I am right there beside them. I did not leave my military background in the past and it has definitely come with me through all my coaching."
 During her time at NSA, Ross led her team of 13 girls on one-mile runs for 13 days to honor the 13 fallen military members in the Afghanistan suicide bombings. This has translated to the Coppell team as, instead of being on the sidelines, Ross can be seen completing workouts during practice alongside the team.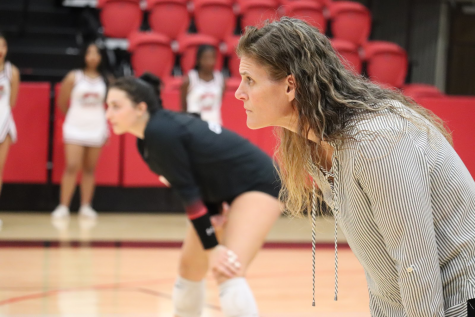 "This has been my favorite year of playing volleyball in high school," Coppell senior middle blocker Allie Stricker said. "I think Coach Ross is a big reason why." 
According to Springer, Ross can put in a workout like nobody's business.  
"We had an assistant coach here last year," Springer said. "She's a young girl. She worked out with her one day. She came out like somebody had killed her and said, 'I can't keep up with her.' And hardly anybody can keep up with her." 
Ross has been coaching for 14 years and continues to look forward to her job every single day. 
"The reason that I have stayed a coach and been involved with high school aged athletes is seeing the impact of all of the discipline that goes into being a good athlete, and how that pays off for them later in life," Ross said. "Watching them grow into good humans and go out into the world using the things that they've learned through sports is what keeps me coming back. Winning and losing isn't necessarily the stamp of success. I didn't become a better person or coach and neither did my girls just because they won state tournaments. The whole process is what made the difference."
Follow @angelinaliiu and @SidekickSports on Twitter