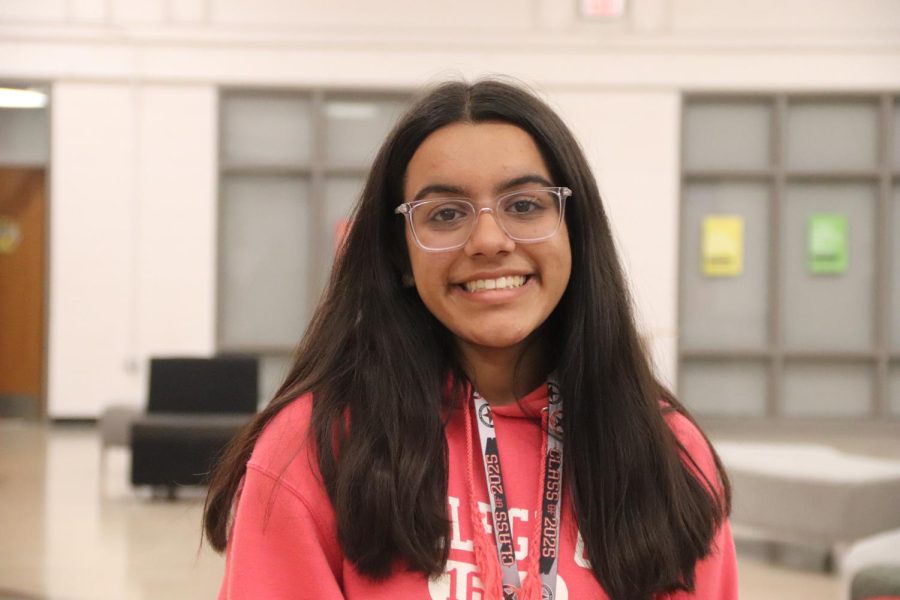 CHS9 Student Council Vice President: Rhea Choudhary
With all CHS9 students returning in person this year, the importance of fostering a sense of community has been imperative to help students transition back to normal learning. CHS9 Student Council vice president Rhea Choudhary is no different and hopes to create a community both within CHS9 and in student council.
Why did you run for vice president?
I had already had a lot of leadership experience [started a dog sitting business where funds are donated to the VSK foundation in India to help girls receive an education and started a musical therapy program at a senior lifestyle center, MacArthur Hills] prior to running and I thought it would be a good fit for me because I wanted to take [the leadership] further in school where I could use it every single day. Especially in freshman year, I could build off of that if I got the position for my further years. 
What was your first reaction to being elected vice president?
I was glad and I think it definitely reinforced my confidence. I've always been a really shy person, so I think it definitely helped me embrace more things and a lot more people knew me.
What is your favorite part of CHS9?
The community that has been built around us. They separated the ninth grade campus and I think that has been super beneficial because it makes the transition less stressful than it would have been with all of the 10th through 12th graders. They built a really positive community around us and a great support system. 
What extracurricular activities are you involved in?
My three main passions are dance, piano and karate. I am also involved in a lot of community service and over this year, I've completed 250 hours so I definitely like to get involved with the outside community. For example, musical therapy is something I try to do every weekend at a senior center. I want to go into the health field so I like to combine music and health with musical therapy.  
What is your favorite part about being a leader for student council?
The ownership and credibility we have. We are allowed to sign off on a lot of things and even though it doesn't seem like we do much, I think they give us a lot of responsibility as leaders. 
What legacy do you hope to leave on the CHS9 student council?
Everybody thinks they do not want to make any mistakes but I would like my legacy to be that I did my part and that I was involved enough. I want my legacy to be that I made a large enough impact that people were positively influenced by me. 
What advice do you have for running for a leadership position in an extracurricular?
Don't make it sound too generic and be unique. I think people really notice that out of everybody because otherwise people get really bored of the same type of thing being shown when you want to vote for someone. 
What do you want your peers to remember about you? 
A lot of people run to try to be popular, but the one attribute I would like people to remember me by is my compassion or caringness and actually trying to get involved to make the school better overall.  
Which student council project are you the most proud of?
I would say the ninth grade showcase and the candy grams projects. I was heavily involved in the candy grams project because I created the labels and we figured out the pricing situation and how to advertise it to people so it would be fun but at a good price for people to get for their friends. There was also the showcase for incoming ninth graders, I was in charge of creating the club trifold and the brochures and everything like that as to why StuCo would be a good fit. The showcase or the candy grams would definitely be a favorite because I was pretty involved in both of them. 
What are your future goals in student council?
I've definitely enjoyed it a lot this year and I've learned a lot of things because I haven't had this big of a leadership role before. So I would want to keep pursuing that for three years if it's possible. I definitely think it will be a lot more difficult to run but as for now, I would probably start by running for a smaller position, like secretary or something, because I do think it will help me especially with all of the new things I've learned at CHS9. 
Follow Manasa (@Manasa_Mohan_7) and @CHSCampusNews on Twitter.