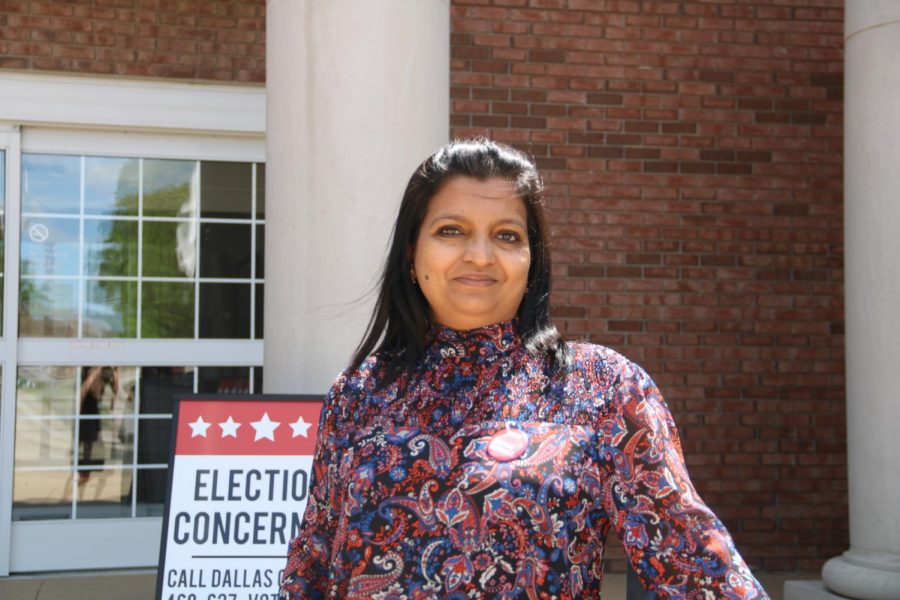 Sonal Tandale (Place 7)
What inspired you to run for Place 7 on the Coppell ISD Board of Trustees?
I am running for the Coppell ISD School board trustee office, because I want to serve my students and parents. I am a current parent at the Coppell ISD, so I have firsthand information on the enhancements that will aid our students here.
Today I am a legal US citizen and my identity in the USA comes from education. I believe in education. Education has shaped up who I am today. Education brings patience and dedication and defines our entity.
Serving my student community is my passion and also a civic duty. Monetary benefits do not motivate me. My driving factor for this office is to offer help to raise healthy state of mind youth in Coppell. Coppell first is my motivation. I want to focus on the Coppell area first and not bring in external influences in this city. I am a conservative and would like to see Coppell grow that way.
I am a first timer, and I do not come from any PTA organizations. I believe this will bring in a neutral perspective to the voters. I am not biased and do not have any association with any groups.
I am here to serve students first with the help of parents and staff. Students and their well-being are my priority.
You can connect with me and know more about me at www.sonalforcisd.com or email me at [email protected] and FB page: www.facebook.com/sonalforcisd. 
I support Transparency, Tradition and Transformation. Trust me and you will not be disappointed. Come out and vote for me on May 1. Early voting starts April 19.
What experiences prepared you for the role of Place 7 on the CISD Board?
Career wise, I am a successful Project Manager. I have worked with Big 5's like Microsoft, Boeing, ATT, and Verizon. I have extensive experience working with portfolios and managing people resources. But, the biggest qualification is that I am a current parent at Coppell ISD. I have personal vested interest in the school district as my daughter is a current student here.
What are the biggest issues currently facing CISD?
My intent in running for the office is to serve our students and get our students' work force ready. We need to reduce the stress from our students. CISD graduates about 900 high school students each year. Asian students form the largest demographic, followed by whites. The top 54 students (i.e. top 6%) gain automatic admission to UT Austin. So the competition amongst the students is fierce. The options to increase graduation rates, and to be able to strike a right balance between college readiness and workforce readiness here is my proposal for CISD.
CISD should have rank transparency and offer a wide variety of subject's extracurricular classes like orchestra or athletics.

The district should offer in-house training by hiring experienced tutors and preparing students for the SAT/ACT. While this investment causes a dent in the budget, it will be a welcome expense line item, that will be supported by parents.

CISD should offer an AP Capstone program. This is one of the main reasons why high school parents choose to move to Frisco, Grapevine, and Lewisville ISD. I would like to retain our students, our talents in Coppell TX.
What are your plans to address these concerns?
Rank transparency is the biggest challenge at CISD. I believe non-disclosure of ranks to the students is discriminatory. I think the school district should involve and include students and also their parents in career decision making. Today's parents would like to see their children prioritize their education alongside personal social emotional metrics. In order to have more engaged students and parents, school districts like CISD should disclose all the ranks of the students. This transparency will allow students to make more informed educational choices. At the same time, school districts should include additional non-traditional curriculum to engage all cadres of students per their social emotional needs.
I will vote for CISD to offer in-house training and an AP capstone program. I would like to build our students ready for the workforce. This will be a welcoming change both by parents and students at CISD.
How would you describe CISD to a stranger?
CISD is a grade A school district, and holds true its core values – Engagement, Great teaching, Relationships and Redefining success. It is an education hub with wonderful students and exceptional teachers. CISD has versatility and showcases a great cadre of knowledge among students. CISD offers additional curriculum that benefit all our students. Come and enroll your students, you will not be disappointed.