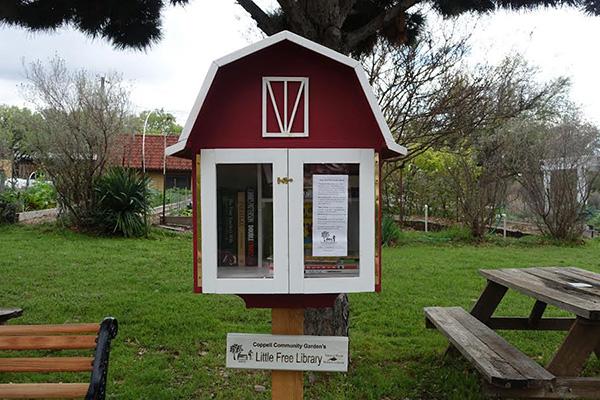 A Tale of Two Libraries: Hudson, Tindall set up "little free libraries" in Coppell
In 2009, Wisconsin resident Todd Bol built a little library in the shape of a box in his front yard. As a tribute to his late mother who loved to read, he filled it to the brim with novels.
"FREE BOOKS", the handmade sign below it read.   
In a few years, the Little Free Library movement would spread across the nation to promote literacy and community in front yards, sleepy neighborhoods and storefronts.
And this movement seems to have spread to Coppell, too.
Resident Michelle Hudson is the steward of the first Little Free Library in Coppell.
Before starting it, Hudson had heard about the idea on National Public Radio (NPR). Hudson, who had seen one while traveling with her family, decided to start one in her own neighborhood.
"I thought it was a great concept," Hudson said. "But after I saw that, I came home and Googled the organization and looked up our zip code. Weirdly, no one in Coppell had done one yet."
After registering the box into the Little Free Library organization, Hudson began to see visitors. Neighbors, friends, and strangers alike stop by to add their own favorite books to the collection.
"I really love getting to meet my neighbors," Hudson said. "So on Saturdays when I'm working on the yard, people stop by and thank us for doing it, and some [mention] that there aren't enough kids' books, so they bring more kids' books hoping that other people will share it."
The interesting thing about a communal library is that its diversity comes directly from the people who visit it.

"There's fiction, nonfiction, there's a Jehovah's Witness who keeps putting things in there," Hudson said with a laugh. "But who knows, someone might need that, too."
Similarly, visitors feel the sense of community that the little library brings.
"At first, I thought it was just some kind of mailbox but when I saw the actual sign, I was surprised that it was a [little] library," Coppell High School senior Tejas Kalanithi said. "It was a nice surprise, though. You don't see things like that every day so the fact that all those books were there just so that people in the community could [enjoy] them, was refreshing."
"
I don't know about you, but you read books, but then what do you do with them?"
Hudson's little library has since inspired resident Pat Tindall to set up her own.
"In January I was in a meeting for the Environmental Education Committee and one of the ladies had been traveling with her children and she mentioned one of these free little libraries, [saying that] she was going to do one for her neighborhood," Tindall said. "I thought that would be really good for the community garden and [wanted it] to be like a barn."
After mentioning that a library would be a good addition to the garden, fellow committee member Earl Rogers took initiative to build it himself.  
"It was a surprise," Tindall said. "He donated his time and materials and built this little red barn."  
The library itself is painted a deep red to resemble a miniature barn. On the outside, it is slightly bigger than your average mailbox. On the inside, there are two wooden tiers filled with books of various genres and sizes.
"My goal really is a sense of community," Tindall said. "I don't know about you, but you read books, but then what do you do with them?"
Visitors can stop by and follow the Little Free Library motto, "Take a book, return a book".
Nestled comfortably under the shade, Tindall's little library is even accompanied by a refurbished bench for readers and gardeners to relax on.
With the constant presence of mobile reading apps and technological distractions, Rogers sees it as a way to build bridges between Coppell residents and literacy.
"They do help stimulate an interest in reading," Rogers said. "It is a good thing to expose people, especially young people, to hard copy books. This helps build a stronger community."
As stewards, both Tindall and Hudson have similar goals in creating these libraries.
"This would be a way that people could read different things, not have to pay for it, come to the garden, sit under the tree and read a book," Tindall said. "It would just be a nice feeling and it [creates] a nice sense of community."
If you would like to know more about the Little Free Library organization, visit them here.