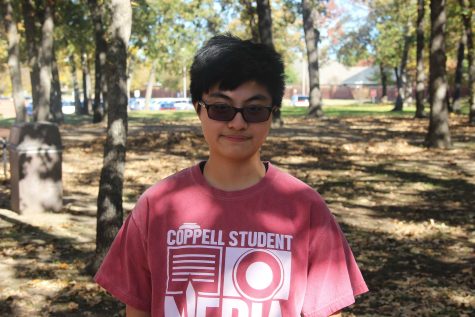 Wren is a junior. She recently moved here from the Land of Disney: Orlando, Florida. Yes, she went to Disney a lot. Yes, she've been to Universal. Wren's high school was even across from Universal. (Seriously). Yes, it's hot. (Almost as hot as Texas).
Wren adores books and anime. Books are love; anime is life. 
In her downtime, you can find her reading, practicing tae kwon do or procrastinating.
When Wren can, she travels during the summers. She's been to London, China, Singapore, Japan and Malaysia. She's mostly visited East Asia; her family lives there.
You can contact her lwl3303@g.coppellisd.com or @LaurenWrenLee
Wren Lee, Designer
May 14, 2017

Cozby Con attracts fans of all types to celebrate media

(Story/Photo)

Apr 26, 2017

Mi Cocina wins Coppell's new restaurant with unique take on Tex-Mex

(Story/Photo)

Apr 12, 2017

15 Q's with Mrs. Fisher

(Story)

Apr 02, 2017

Cowgirls end night with massive victory, raise autism awareness

(Story)

Mar 07, 2017

North Texas Teen Book Festival brings stories to fans in unique ways

(Story/Photo/Video)

Mar 03, 2017

Book lovers to attend North Texas Teen Book Festival

(Story/Photo)

Feb 03, 2017

Hopkins regales CHS students with her books, life stories

(Story)

Feb 03, 2017

15 Q's with author Ellen Hopkins

(Story)

Jan 27, 2017

Hopkins best selling author comes to CHS to talk with students, share her story

(Story)

Oct 21, 2016

What's the buzz with West Nile and Zika virus?

()

Oct 03, 2016

Successful students, valued volunteer

(Story)

Sep 28, 2016

Theatre students take the stage at silent auction and revue

(Photo)

Sep 21, 2016

"If there is a word I can leave you with tonight, it's transformation."

(Photo)

May 23, 2016

Feed your anime addiction

(Story)

May 20, 2016
Apr 25, 2016

Silvera brings happiness to CHS students

(Story)

Mar 09, 2016

Geeks and nerds: debates over the difference resolved

(Story/Photo)

Mar 07, 2016

Become friends with 'Natsume's Book of Friends'

(Story)

Feb 12, 2016

Fans see stars when Meyer comes to town

(Story)

Feb 05, 2016

Author Marissa Meyer brings stars to Irving library

(Story)

Jan 26, 2016

Posey sisters dance in their own ways

(Story)

Jan 09, 2016

Three 2016 Young Adult (YA) debuts capture your attention, love

(Story)