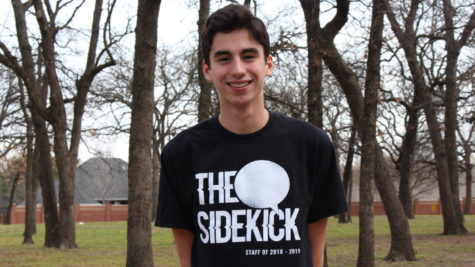 Nicolas is a junior serving his first year as a staffer. His passions include hiking, traveling and beginning to write novels he will never finish. In his free time, Nico enjoys destroying his friends in FIFA and playing soccer.
You can contact Nico at
[email protected]
or at nico_reyes19 on Twitter.
Nicolas Reyes, Staff Writer
May 08, 2019

New Tech seniors leaving final marks on campus through tradition

(Story)

May 07, 2019

Three warehouses, various benefactors

(Story)

May 02, 2019

More than just math class: Epidemic of addiction among family, friends pushes Behlen to share important message of sobriety with students

(Story)

Mar 29, 2019

Penny Podcast – Episode #009

(Media)

Mar 19, 2019

Coppell Observer: Death by Membean

(Story)

Feb 23, 2019

Teacher of Scholastic Journalism Week: Harris inspiring new generation of journalists

(Story)

Feb 12, 2019

Remembering Parkland

(Story)

Feb 12, 2019

Olé's Neighborhood Tex-Mex reopens after renovation

(Story)

Jan 23, 2019

What the government shutdown means for Coppell

(Story)

Dec 14, 2018

Do what you are good at

(Story)

Nov 16, 2018

O'Rourke lost, but we are too young to be cynical

(Story)

Nov 03, 2018

2018 Midterms: Candidates campaigning, citizens voting for the future

(Story)

Oct 07, 2018

Neighbors gather to celebrate National Night Out with law enforcement

(Story)

Oct 02, 2018

Homecoming pep rally builds anticipation for game, dance

(Story)

Sep 28, 2018

CMSE Sustainability Club hosts fun-run to create wells in Sudan

(Story)

Sep 20, 2018

Volleyball team's Digs for Dogs aids canines in rough spot

(Story)

Sep 14, 2018

It is time for a change: Coppell is in great need of a new high school

(Story)