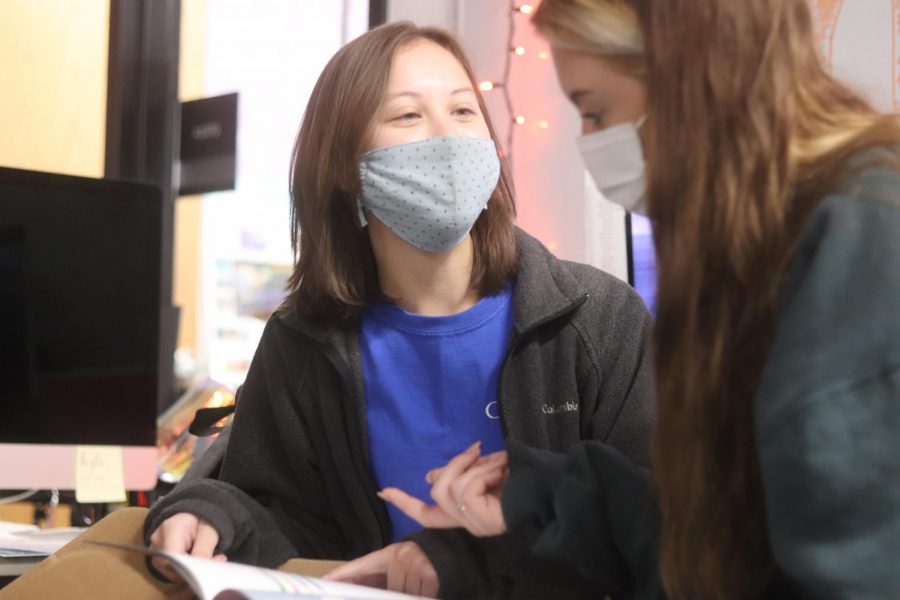 Samantha Freeman
Since sophomore year, Coppell High School senior Riley Shultz has been a staff member of the CHS yearbook, The Round-Up. This year, she earned a position in top tier as the managing editor for the people and sports section. Her responsibilities entail editing stories and guiding staffers in producing content.
What's your favorite part of yearbook?
Yearbook is like a big family, we're all really close with one another. I like how organized the schedule is and how aesthetically appealing the designs are.
What is the hardest part of being a leader on staff?
The hardest part right now is adjusting [to] yearbook because of COVID-19. It's hard to communicate and be on the same page all the time because we all have different schedules and a lot going on right now. It's also hard to make choices for myself because before I had someone above me, correcting me, but now I'm that person.
What are some of your interests outside of yearbook?
I'm an instructor at Coppell Taekwondo Academy and I work at Calloway's Nursery. I like to stay busy, because if I'm not doing anything, I'm lost in my own mind. I also do photography for fun, because my sister likes to model for me. I like cooking. Whatever I find on Pinterest that looks edible, I'll make it.
Who is your role model and why?
For most of my childhood, my role model was Bethany Hamilton, the girl who got her arm bit off by a shark. My sisters and I watched the movie when we were little and we got to meet in her real life. Actually seeing her made me look up to her even more. She's been a big inspiration and she taught me to never give up and go after my dreams.
How do you feel at the end of the year when you hand out yearbooks?
It's a really good feeling overall. We love distribution day, it's one of our favorites. Whenever we're handing them out, we go through it ourselves, talk about the book and it's really nice to see the end product that we have been working on this whole year. A lot of stress and good memories go with it.
What is the biggest misconception about the program?
The biggest misconception is that it's just for girls. There are only two guys in yearbook even though it's not just a girl thing. We're not that scary, so I would encourage more guys to join.
What have you learned from yearbook?
Overall, it's a good life experience. It's like a small business. We do a lot of advertising and social media. When you go into the real world, you need the experience of having a boss over you. Yearbook is like a job in that sense and it provides a lot of valuable experiences. There's a lot of collaboration and teamwork you learn that will carry through in other aspects of life.
Follow Trisha (@trishatluri) and @CHSCampusNews on Twitter.