Unmasking a new fashion statement
Clothes are an important part of our everyday life; they are a form of expression and make people feel more confident, comfortable and in control. What we wear can help us feel positive despite the challenges we face. 
And as we are amid a worldwide pandemic, positivity is more important than ever before and choosing what you wear can help you feel more comfortable and confident. Masks can be the key to that self-confidence and positivity.
At the start of the pandemic, people used masks to protect themselves. Now, masks are a necessity. Along with gloves, goggles and other forms of PPE, they are used to help us protect ourselves and others against the virus. However, masks can also be used to protect ourselves from the negativity that seems to come from the internet and news. 
As the demand for masks became higher, people used ski masks, gas masks, surgical masks, face shields and masks made of bedsheets and old cloths to protect themselves. 
Though there are numerous masks made for our protection, the ones that catch my attention are the ones with flowers, the tie dye and glitter, the puns and patterns. These masks have more than just design, they have a personality, making them seem more like an article of clothing than other masks. These masks have positive words, cute animals and so much more. There's masks for everyone and anyone.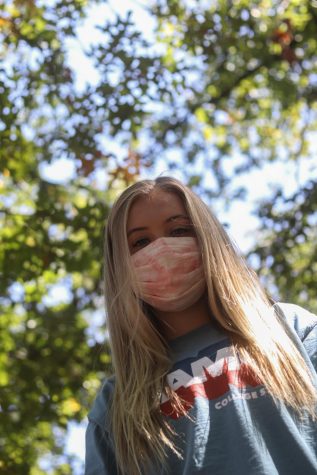 Many of us are heading back to school where it is required to wear masks. So why not wear a mask that makes you feel more confident as you walk around those halls? 
Some of us feel like we should turn masks into fashion statements. 
"If you dress confidently you feel good about yourself," Coppell High School sophomore Mytri Nair said. "And making a statement with a cute mask would help me feel more confident than to have a general boring surgical mask that everyone has and wears."      
While this may be true for her and others, some seemed to disagree with her statement. 
"I would rather wear a standard mask," CHS junior Geeth Gunnampalli said. "I would feel more embarrassed wearing a cooler mask than a normal mask." 
Not everyone wants to have a mask that makes them look cool or different. In this case, wearing an ordinary mask is what brings confidence opposed to a unique one. Although a unique mask would be more expressive, not everyone wants to stand out. Also, a mask might not be the way a student wants to express themselves, preferring perhaps their shoes or T-shirts instead. People can express themselves in many ways, a mask might not be their idea of doing so. 
In the end, the importance of a mask is to make people feel safer. 
However, whether it be leopard print, glitter, science puns, or an ordinary mask, when you walk outside in the middle of a pandemic with a mask on, it also can help you feel positive. So as you walk onto campus, feel confident in the mask you're wearing.