No regrets
Fulfilling period of friendship not enough to quell impending feeling of loss
"Moving on" 
When I first read the headline last year, I assumed the Coppell volleyball team was overcoming a loss or some other negative event. For some reason, the phrase "moving on" was always shrouded in bittersweetness. It meant facing adversity and progressing past it. 
Turns out, the headline was very literal. The team had defeated Keller to advance in playoffs as Class 6A Region I bi-district champions.
The author of the article, The Sidekick executive copy and design editor Nick Pranske, is a senior. He and the other seniors advance to the next stage of their lives as they graduate this year. 
And just as the Cowgirls left Keller in the past, the seniors leave people like me – someone incredibly close with a lot of upperclassmen – in the position of having to move on. 
The bittersweet kind of moving on. 
People often struggle with moving on because they hold onto regrets. They wish they did more with the time that they had or avoided some of the fights that tainted the stretch of many friendships. 
I have no regrets with how I spent my time with my friends. When I look back on what I did with them during the years I knew them, I am satisfied. In theory, I should be feeling fulfilled and have no problem continuing on with my life. 
Unfortunately, I discovered my lack of regret makes moving on no easier. Rather, it simply makes my clinging to the past purely selfish in reason. 
I do not want my time to end with the people I love so dearly. If I could, I would keep them with me so I could have more laughs, smiles, hugs, everything. It is no longer wanting to correct any wrongs, it becomes just wanting more, trying to resist change. 
The Sidekick executive news editor Pramika Kadari was a constant in my transition from sophomore to junior year. As I saw a lot of my friend group shift around, Kadari was an unchanging presence in my life in that I saw her every day. She is a dear friend and an admired role model. Losing her permanence, both in companionship and in the program itself, might be one of the biggest shakeups going into next year. 
Another role model, The Sidekick executive editor-in-chief Anthony Cesario, joins my list of those I will miss the most, after a semester and a half of giving amazing advice, laughing to the point of tears and providing numerous music recommendations.
Despite phone calls and text messages, the face to face connection with them will be gone. Kadari is going to Austin (University of Texas), Cesario to Tennessee (Vanderbilt University) and Pranske – the closest thing to a big brother figure I have – to Oklahoma (University of Oklahoma). My time of frequent hugs unfortunately has passed, sooner than I had expected due to the pandemic which seems to have stolen time from just about everyone. 
Moving on is more than just letting go of regrets. It comes from plain acceptance of the truth. It may take time to recover from my emotional distress, but in the end, I cannot escape the reality of the situation.    
Cesario, Kadari and Pranske, as role models for younger staffers on The Sidekick and as people close to my heart, will be deeply missed. As they step into a new phase of their lives, they leave a pair of men's size 11 Champion sneakers, women's size 9 booties and men's size 12 Crocs for me to fill. 
I can only hope that I make them proud – to send one last bit of happiness their way from their dear friend. 
Follow Sally (@sparampottil) and @CHSCampusNews on Twitter. 
About the Contributor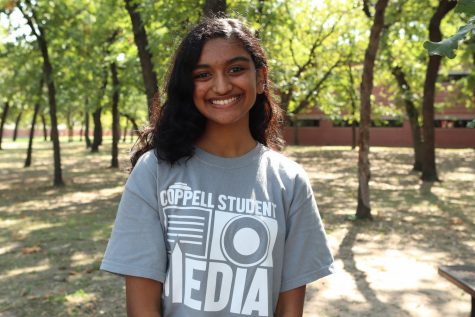 Sally Parampottil, Executive Editor-in-Chief
Sally is a senior and the Executive Editor-in-Chief on The Sidekick. While she's done just about everything possible on staff, she loves writing for sports...