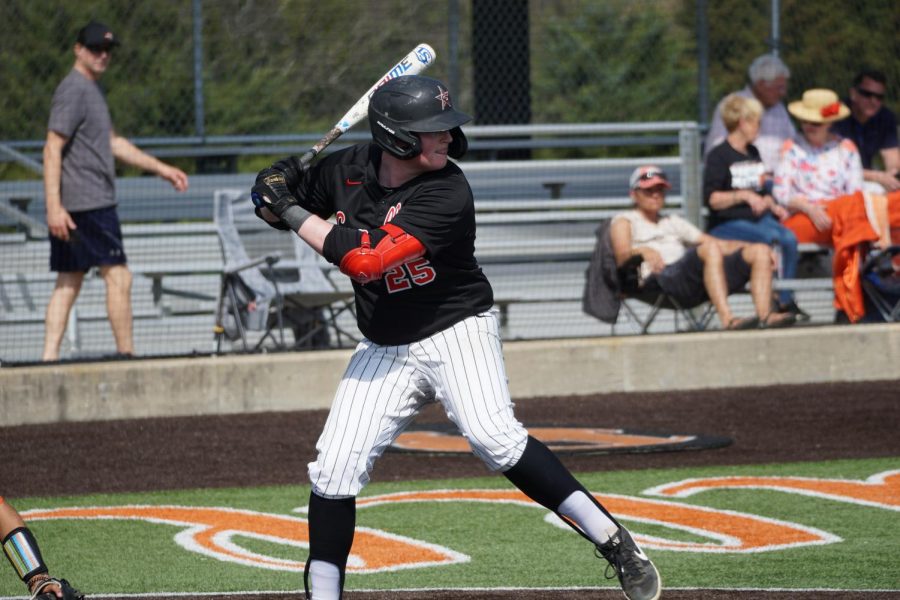 Photo courtesy Pip Krauss
A baseball, four bases and nine Angels players on the field.
Moving to Los Angeles at 4 years old from New Zealand, the future of Coppell junior pitcher and infielder Chayton Krauss was set from the moment his family went to the Los Angeles Angels game against the Oakland Athletics at Angels Stadium in Anaheim, Calif. – the first place they went after arriving in the U.S.
With help from his 14-year old neighbor in California, Krauss was taught how to play through the winter and early spring at 5 years old. He entered his first year of baseball in 2008.
Krauss has played for the Coppell baseball team since his freshman year.
"He got called up to the varsity [team] and was immediately asked to pitch against [Rockwall at Rockwall High School Campbell Baseball Complex] and gave us four strong innings, as well as a couple of RBIs at the plate," Coppell assistant Clint Rushing said. 
In addition to playing for Coppell, Krauss also played with the New Zealand U15 team in January 2017 and U18 team in October 2018.
"Just being part of the [New Zealand team] was great," Krauss said. "[I got] to stay with a host family in New Zealand for three weeks with my brother [Coppell freshman Liam Krauss], learned more about the country where I was born and learned the Haka, which is the traditional Maori war dance that New Zealand teams do before sports."
Frequently helping other teammates with pitching, Krauss helped lead the team to the playoffs last year.
"As a player, he's definitely one of the best hitters that I've ever been on the same team with," Coppell junior pitcher Matthew Cashimere said. "He also has the most power on the team. His last at bat before [sports were suspended due to the COVID-19 pandemic], he hit a grand slam against Georgetown that went so far. That ball might still be flying."
Krauss has developed his skills as an infielder, according to Rushing, as he has great hands and keeps an eye on the field.
"He has so many strengths on the field, [including pitching and fielding] at a super high level," Coppell junior shortstop Sam Rodman said. "When he's got the ball on the bump, he's ready to roll and attack hitters. I got to see him hit a monster homerun in the [District 6-6A playoff] against [Southlake Carroll] last year."
After living in Los Angeles, Calif., Krauss's family moved to Lewisberry, Pa. and he was introduced to Red Land Little League by his friends Braden Kolmansberger, Cam Walter, and Jaden Henline. Krauss played for the team when he was 11 and 12 years old, before moving to Coppell.  
"My favorite baseball game ever was on Aug. 29, 2015 in the Little League World Series [against Pearland West]," Krauss said. "I hit a walk-off single to win the United States Championship. The best thing about that game was probably the fans. We had 45,000 people at the game cheering us on, so the hit was a special moment, but playing in front of that many was crazy."
Family, coaches and teammates play an important role in helping Krauss improve. 
"He has gotten bigger, stronger and more athletic," Rushing said. "He can crush the baseball and has easy velocity when he pitches. He has great hands at first base, hits with power and can throw 90 mph."
Hoping to pursue his future career as a major league baseball player, Krauss aims to get a scholarship to a good baseball program in college.
"He absolutely has a future as a baseball player," Cashimere said. "He's a big dude with crazy hitting abilities, along with being a really good defender and pitcher. There's not much he doesn't do well on the baseball field."
Follow Tracy (@AnhImtracy) and @SidekickSports on Twitter