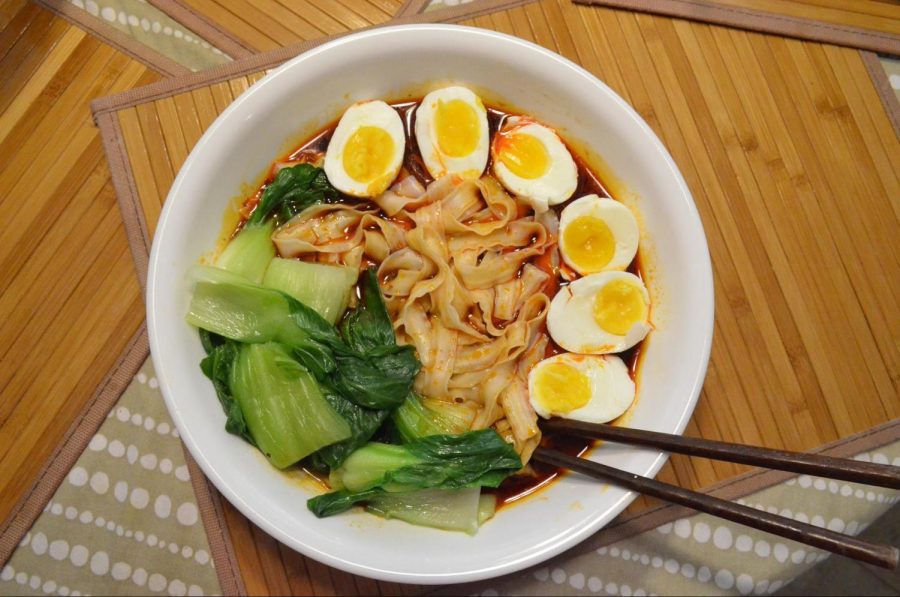 Spicy Chinese soup noodles
Every family has that one go-to meal they turn to when it's 6:30 p.m. and there's "nothing" in the fridge. There's also that one dish that embodies comfort, childhood and cozy nights in. For my family, this soup noodle dish encapsulates them both. 
For as long as I can remember, my mom has made these noodles for our family multiple nights a week. Maybe it is because of the sheer number of times I have eaten it or simply because I love the spicy warmth it provides, but this dish is always my go-to whenever somebody asks me what my favorite food is. 
Not only is this a part of my mom's recipes, but my aunts' and uncles' in China, too. Of course, there are slight variations, but the core of the dish remains the same: noodles served in a chili-infused, savory broth. Up until now, my mother has never followed an exact recipe — a splash of this, a little bit more of that — but these measurements I've written down below were used with my mom looking over my shoulder, so it's as exact as it'll ever be. 
Serves 3-4
Ingredients:
12 oz

dry noodles

1 tbsp toasted sesame oil

1/4 cup less sodium soy sauce

3 tbsp Lao Gan Ma Chili Crisp Sauce

2 tsp

Roasted Chicken base

1 tsp sea salt

3 boiled eggs or other protein of choice

1 lb baby bok choy
Directions:
In a large pot, boil 4 quarts of water.

While water is boiling, combine the sesame oil, soy sauce, chili crisp sauce, chicken base and salt in a large bowl.

Add 2 cups of t

he

boiling water into

 bowl and stir until combined.

Place the baby bok choy into the boiling water and cook for 2 to 3 minutes.

Place the baby bok choy into the bowl and wait for water to boil again.

Cook the noodles in the boiling water for 4-5 minutes.

Combine the baby bok choy and noodles in the bowl and serve on the side with protein of choice (e.g. boiled eggs).